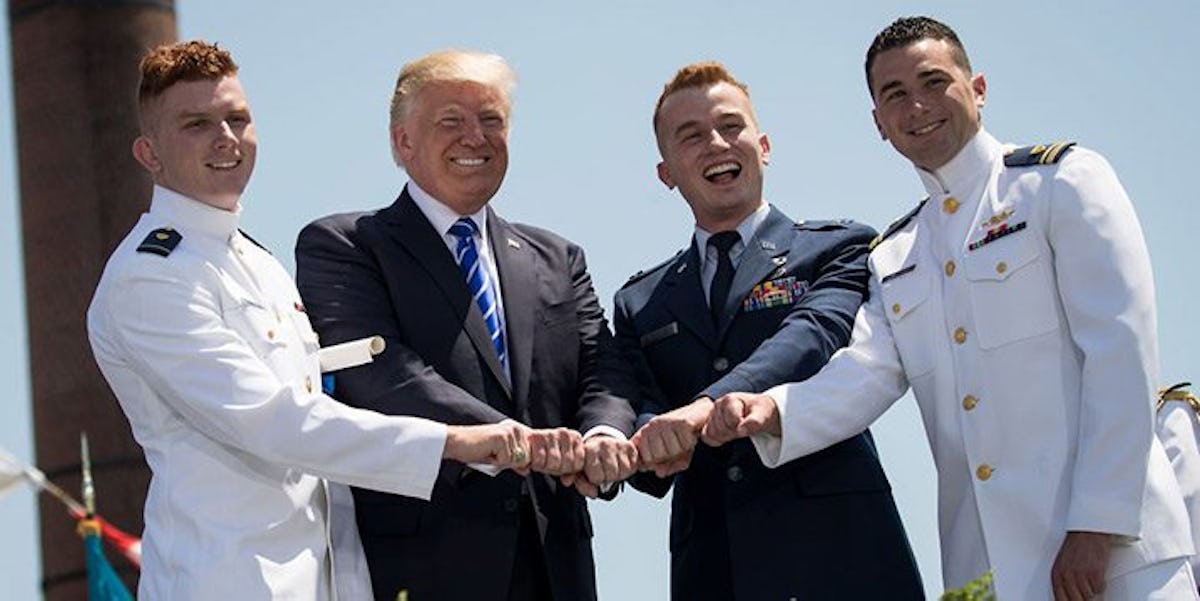 Five Transgender Service Members Are Suing Trump Over Proposed Military Ban
Drew Angerer/Getty Images
Weeks after President Donald Trump tweeted about banning transgender people from the armed services, a handful of transgender service members sued Trump over his military ban. The five service members have filed their lawsuit in conjunction with two LGBTQ+ organizations — the National Center for Lesbian Rights and GLBTQ Legal Advocates & Defenders. The NCLR's Legal Director, Shannon Minter, outlined the reasons for the lawsuit against the trans military ban, saying in a statement obtained by the Huffington Post,
Trump's directive to exclude transgender people from military service has created a tidal wave of harms that have already been felt throughout our armed services. Transgender service members have been blindsided by this shift and are scrambling to deal with what it means for their futures and their families. The President's mistreatment of these dedicated troops will serve only to weaken and demoralize our armed forces.
The lawsuit names as defendants President Trump, Secretary of Defense James Mattis, and Joint Chiefs of Staff Chairman Joseph Dunford, among others.
Trump's tweets about a transgender military ban drew criticism from both Democratic and Republican congress members and generated a wave of reactions on online.
Despite the buzz the tweets created, however, they didn't amount to any actual policy change.
According to the lawsuit, the plaintiffs are targeting Trump's "decision to reverse the current policy." However, it's still not exactly clear what that "decision" is. After Trump tweeted about transgender military service, there was no official statement from the White House outlining any definite changes to military policy.
The Department of Defense (DoD), meanwhile, appeared unprepared to explain what Trump had intended with his tweet. The DoD, therefore, referred all questions back to the White House.
Days later, Dunford released a statement announcing that there would be no immediate changes regarding transgender service members particularly because President Trump had not issued any actual, official direction to the military.
The only notable news related to any prospective ban appears to be a report from ABC News on Friday, Aug. 4, which stated the White House and DoD are working together to craft a new policy regarding transgender service members.
Even then, the report states it's unclear what the policy will be, which means it's also unclear what effect any lawsuit against a ban that hasn't officially been issued can have.