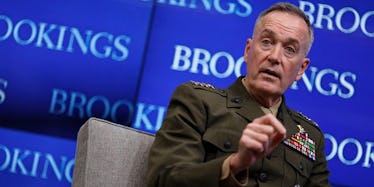 Military Leader Says Trump's Trans Ban Isn't Real Because He Only Tweeted It
Aaron P. Bernstein/Getty Images
President Donald Trump's tweets about the service of transgender people within the military will not result in any immediate policy changes within the armed services. That much is clear after an announcement on Thursday, July 27, from the nation's highest-ranking military officer. The announcement came from a letter written by Gen. Joseph Dunford, who said Trump's trans military ban tweets are not policy, according to The Hill.
The letter reads,
There will be no modifications to the current policy until the president's direction has been received by the secretary of defense and the secretary has issued implementation guidance.
In other words, Trump may have tweeted about a ban, but he didn't actually issue or coordinate a formal order to make it happen.
Gen. Dunford serves as chairman of the Joint Chiefs of Staff. His letter was obtained by CNN, which also reported that joint chiefs (i.e., the nations senior military officials) were not aware President Trump would announce a ban of transgender service via Twitter.
The report about the leaders' lack of knowledge of Trump's (apparently impromptu) announcement contradicts what Trump implied himself, that the conclusive decision of a ban on transgender military personnel was made with consultation from generals.
Gen. Dunford's letter also confirms the lack of apparent cohesion between the Department of Defense (DoD), the White House communications staff, and President Trump that had already been signaled.
Despite Trump's tweet, neither the DoD nor the White House released an official statement regarding any official change in military policy. That fact, in itself, indicated that no official military decision had been made, which Gen. Dunford confirmed on Thursday.
His letter went on to say,
In the meantime, we will continue to treat all of our personnel with respect. As importantly, given the current fight and the challenges we face, we will all remain focused on accomplishing our assigned missions.
Whether Trump will follow through with a plan to bring any official changes to military policy remains to be seen. As of now, though, that has yet to happen.