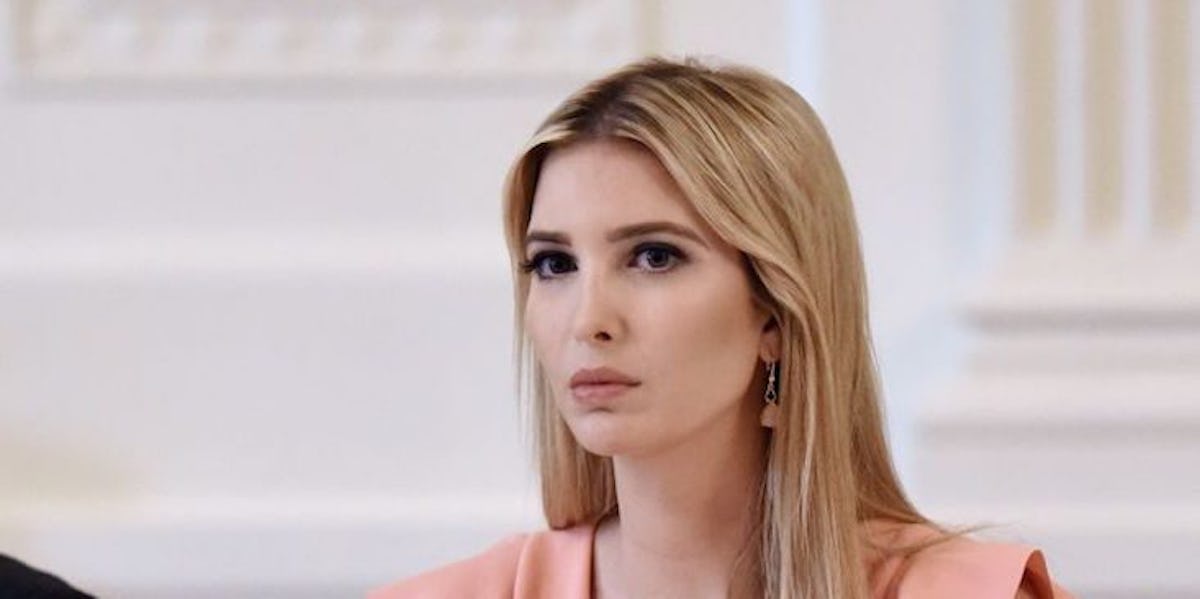 Ivanka Trump Has Officially Been Roped Into The Russia Meeting Drama
Olivier Douliery-Pool/Getty Images
With her father, brother, and husband already facing a great deal of scrutiny, Ivanka Trump has officially been roped into the Russia meeting scandal.
On Wednesday, July 19, almost two dozen Democratic members of Congress sent a letter to the FBI calling for the first daughter's security clearance to be reviewed, ABC News reports.
The Democratic lawmakers who signed the letter want the FBI to review Trump's SF-86 form, the document federal employees fill out to gain security clearance.
Trump would've been required to disclose foreign contacts she had, as well as meetings her siblings and spouse had, on the form.
There's not currently any evidence Trump omitted such details, but the Democratic members of the House who sent the letter to the FBI want it to make sure she mentioned the meetings her brother and husband had with Russians.
The letter states,
As a member of the White House staff and close adviser to the president, Ms. Trump applied for a security clearance, and, as a result, was required to disclose her own foreign contacts as well as those of her spouse and siblings.
Representative Don Beyer, who is leading the charge on this, said Trump's security clearance should be revoked if she didn't list the meetings, Yahoo News reports.
Kushner originally failed to mention foreign contacts he had on his SF-86, and has amended the form three times. At one point, he added over 100 contacts that were previously undisclosed.
The 22 Democratic lawmakers who signed the letter said they are concerned Trump engaged in "similar deception."
Trump and her husband both serve as advisers to the president and have a significant amount of influence in the White House.
If they were to lose security clearance, it would be embarrassing for the Trump administration and put the president in a tough position.
Trump, who's an unpaid employee in the White House, has frequently been criticized for the role she plays in her father's administration.
While she's attempted to present herself as a voice of reason in what has been a highly chaotic presidency thus far, many view her as complicit in her father's words and actions.
But, she seemed to have managed to separate herself from the controversy surrounding the Trump campaign's alleged collusion with Russia -- until now.