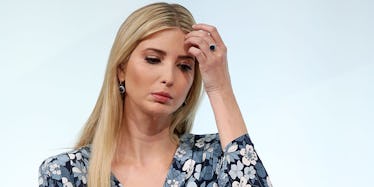 Where Was Ivanka Trump When Jared Kushner & Trump Jr. Met Natalia Veselnitskaya
Sean Gallup/Getty Images
As reporters and politicians continue to delve into Donald Trump Jr.'s meeting with Russian lawyer Natalia Veselnitskaya, a question remains: where was first daughter Ivanka Trump?
Though there's no sign she was involved in the June 9, 2016 meeting, it's not clear what she was doing the day of her husband and brother's meeting, and she's kept a low-key social media profile since the news broke this week.
She did make headlines two days earlier for wincing during one of her father's speeches where he addressed the Clintons.
"I am going to give a major speech on probably Monday of next week and we're going to be discussing all of the things that have taken place with the Clintons," President Trump said during his June 7 New Jersey primary victory speech, according to US Weekly. "I think you're going to find it very informative and very, very interesting."
Though Ivanka's facial reactions caused a bit of commotion, her June 9 activity is somewhat unknown.
According to Twitter, Ivanka was very focused on motherhood that day.
On the 9th, Ivanka — who had given birth to her third child, Theodore, two and a half months prior  — shared a Business Insider piece she wrote about how her parenting affects her leadership.
She also retweeted an InStyle piece that exclaimed her parenting style is "too cute for words."
She also took to Facebook that day to discuss lifestyle topics.
She shared a piece from Allure revealing the secret to how Lauren Conrad gets her waves.
Her brand was focused on work.
Trump began the month by sharing popular prints to download for computer backgrounds (a post that was written at the end of May).
News circulated a few weeks later describing Ivanka's husband's role in her father's campaign, after her father spoke at his hotel in SoHo on June 22.
Then, by the end of the month, Ivanka and her husband were captured playing golf at her father's property in Aberdeen, Scotland.
Reports about the meeting and correspondence with Veselnitskaya are still being investigated.
Ivanka has remained relatively low-key on social media, retweeting her father's message about "working hard to get the Olympics for the United States," and her involvement in the G20 summit, which has caused a lot of controversy.
She posted a video ICYMI video recap about the G20 on Instagram, but she hasn't commented on her brother's meeting with Veselnitskaya.