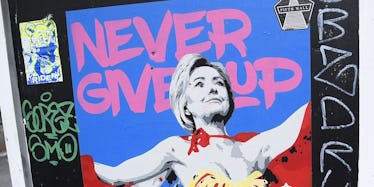 Hillary's Powerful 1st Post-Inauguration Speech On Women Should Be 2017's Motto
REUTERS
Hillary Clinton may not be president, but she's still out there standing up for people across the nation.
The former first lady, senator and secretary of state made a digital appearance to help kick off the annual MAKERS Conference on Monday night.
She made a surprise video statement for the conference, which supports female leaders. It was filmed after the inauguration and the Women's March.
Clinton declares that she still has optimism for women. She says in the video,
Despite all the challenges we face, I remain convinced that, yes, the future is female. Just look at the amazing energy we saw last month, as women organized a march that galvanized millions of people all over our country and across the world.
"The future is female" is a famous phrase used on a t-shirt by and for feminists in the 1970s.
The first woman to win a popular vote says that now more than ever, we need to "be bold," which is the theme of this year's MAKERS Conference.
She says,
We need you to dare greatly and lead boldly. So please, set an example for every woman and girl out there who's worried about what the future holds and wonders whether our rights, opportunities and values will endure.
Clinton tells the viewers to remember we are the "heroes and history makers, the glass ceiling breakers of the future."
She goes on to repeat a famous line from the speech she gave after losing the presidential election in November:
Never doubt that you are valuable and powerful and deserving of every chance and opportunity in the world.
Clinton has worked with MAKERS before and has previously told stories on its platform, including a filmed interview she gave several years ago.
Clinton, her daughter Chelsea and Barack Obama have all spoken out in support of the marches and demonstrations going on across the world against President Donald Trump's discriminatory policies.
Citations: 'The Future Is Female': Watch Hillary Clinton's First Public Remarks Since Donald Trump's Inauguration (Time), Feminist T-Shirt Resurfaces From The '70s (New York Times)