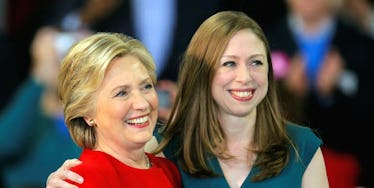 Chelsea Clinton Keeps Trolling Trump Over Immigration Ban In The Slyest Way
REUTERS
Chelsea Clinton is not staying quiet about the discriminatory policies of President Donald Trump.
The former first daughter, who now works for the Clinton Foundation and Clinton Global Initiative, spent the weekend hitting Twitter to show her clear distaste for Trump's immigration policies.
On Friday, Trump signed executive orders that banned people from seven countries that happen to be Muslim-majority. He also banned refugees and created a religious test for refugees, prioritizing Christians.
The ban caused chaos over the weekend as immigrants and refugees arriving at airports fought for access to the United States, which had actually already granted them access, only to take it away under Trump's order.
This is not what Hillary Clinton would have done had she won the presidential election.
And her daughter, Chelsea, clearly also stands with Hillary's more humanitarian policy perspectives.
As people protested for the rights of refugees and immigrants, Chelsea began retweeting articles and statistics on the topic.
Clinton's retweets included tweets about the lawyers who rushed to airports to help immigrants get into the country.
She also retweeted the ACLU, who fights for these rights.
Clinton retweeted her mother's tweet about "defending our values."
She also retweeted a Good article celebrating the politicians who are walking the walk on refugee rights -- instead of just talking the talk.
Clinton retweeted a Slate story calling Trump's executive order "unconstitutional."
She also retweeted a story on Hillary's pro-refugee work.
And she also retweeted New York Senator Chuck Schumer, who thanked the attorneys, translators and other volunteers for helping refugees at New York's John F. Kennedy Airport.
Based on Clinton's tweets, it seems she also made an appearance at a protest in New York on Sunday.
Clinton lives in New York City, so it wouldn't be too hard for her to go to the major protest at Battery Park on Sunday.
She tweeted some pictures apparently from the protest using the hashtag #NoBanNoWall, which people have been using to oppose Trump's discriminatory immigration policies.
Clinton tweeted support for NYC Public Advocate Letitia (Tish) James, who spoke at the protest on Sunday.
Clinton tweeted,
We will keep standing up for a country that matches our values and ideals for all.
Just like Malia Obama, who went to a protest for Standing Rock last week, this former first daughter is not staying quiet about her rejection of the president's policies.
Citations: Hillary and Chelsea Clinton Respond to President Trump's Immigration Ban (Cosmopolitan), Trump Bans Refugees And Citizens Od 7 Muslim Countries (New York Times), Chelsea Clinton attends NYC protest against Trump immigration ban (The Hill), Malia Obama ditches Palm Springs for Sundance pipeline protest (USA Today), Photos: NYers Flood Lower Manhattan To Protest Trump's Travel Ban (Gothamist)