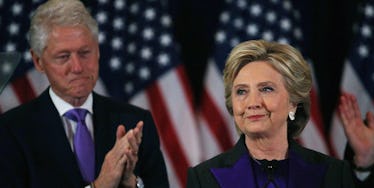 Clinton Concedes With Powerful Advice To Girls: 'Never Doubt You Are Valuable'
REUTERS
Hillary Clinton gave a concession speech on Wednesday morning at the New Yorker Hotel in Manhattan.
This comes the morning after Republican Donald Trump won the presidential election in a shocking upset.
Clinton's speech on Wednesday was highly emotional as she seemingly held back tears and addressed her supporters.
She thanked the members of her campaign and her family. She said Americans "owe [Trump] an open mind and the chance to lead."
Clinton also took the time to address young people, women and little girls. She told young people,
This loss hurts. But please, never stop believing that fighting for what's right is worth it.
Addressing women, she said,
Nothing has made me prouder than to be your champion.
Although she did not shatter "that highest and hardest glass ceiling," Clinton said, "someday, someone will."
But the most emotionally loaded part of Hillary Clinton's speech came when she addressed little girls. She spoke directly to them, saying,
Never doubt that you are valuable and powerful and deserving of every chance and opportunity in the world to pursue and achieve your own dreams.
Clinton made history as the first woman to be nominated for president by a major political party.
That achievement came after a lifetime of breaking barriers for women, which included being the first woman to make full partner at Rose Law Firm, the first first lady to get an office in the West Wing and the first female senator from New York.
During her concession speech, Clinton made an apparent dig at Trump. She said although we respect America's peaceful transition of power, we also respect the rule of law, the principle that we are all equal in rights and dignity, and the freedom of worship and expression.
These are all American values Trump has attacked over the past 18 months, on top of a noted history of misogyny.