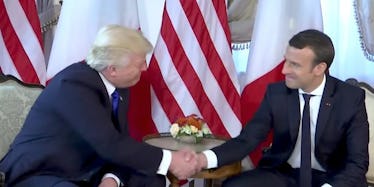 Emmanuel Macron Reveals His Handshake With Donald Trump Was "Not Innocent"
YouTube
It's no secret Donald Trump's handshakes are as widely discussed as his policies.
The leader of the free world has definitely given us a lot to talk about when it comes to uncomfortable greetings.
Let's revisit each scenario.
Japanese Prime Minister Shinzo Abe got a dose of the handshake awkwardness in early February.
But he handled it like a champ and said, "strong hands."
We can't forget the time our favorite Canadian Prime Minister Justin Trudeau just... kind of stared at Trump's hand.
Decisions, decisions.
That scenario didn't go so well.
Philip Rucker, a reporter for The Washington Post witnessed this bone-crushing handshake first hand (see what we did there?).
He said, "If relationships were defined by how two people shake hands, then the one between the newly elected presidents of the United States and France is going to be rather fierce."
Have a gander for yourself.
That bad boy lasted a whole six seconds, and now Macron revealed that was exactly his plan.
According to Newsweek, Macron was in conversation with with the Journal du Dimanche on May 28 and commented on "the moment of truth."
He told the Journal du Dimanche,
My handshake with him was not innocent. We need to show that we won't make small concessions, even symbolic ones, while not overhyping things either.
Those are some interesting choice words from the newly elected French president.
Trump claimed via Twitter (of course) he had a successful time on his first trip abroad as president.
He also met with Pope Francis during this time, and even he had a "moment of truth" with the president.
Perhaps from here on out Trump will rethink this whole handshake thing.
Citations: EMMANUEL MACRON SAYS BONE-CRUSHING DONALD TRUMP HANDSHAKE WAS 'NOT INNOCENT' (Newsweek)