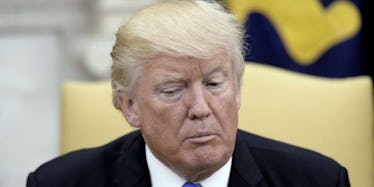 Donald Trump Is Worth $7 Billion Less Than He Says, So He's Fake News
Olivier Douliery-Pool/Getty Images
President Donald Trump's net worth has dropped from $3 billion last year to $2.9 billion, according to Bloomberg Billionaires Index.
This determination is based on figures compiled from lenders, mortgage documents, annual reports, market data, and a new financial disclosure released on June 16.
According to Bloomberg, this decline can be attributed to a drop in the value of three properties in Manhattan.
The declining value of these properties -- 40 Wall Street, Trump Tower, and 1290 Avenue of the Americas -- reportedly chipped away $380 million from Trump's net worth.
This is apparently linked to the changing nature of the New York office market, and the fact new skyscrapers are attracting more tenants.
Meanwhile, Trump's Florida resort, Mar-a-Lago, saw a 25 percent jump in sales in the past year.
Trump has frequently visited Mar-a-Lago since becoming president, which has often been a point of controversy.
Relatedly, the president's continued ownership of his business empire has led to several lawsuits against him, including one recently filed by nearly 200 Democratic members of Congress.
In the past, Trump claimed to be worth $10 billion.
Based on the Bloomberg Billionaires Index, Trump is worth roughly $7 billion less than what he's previously claimed.
The president has made a consistent point of reminding people how wealthy he is.
During his presidential campaign, Trump used his wealth as a selling point, arguing that his business experience would help him improve the U.S. economy.
When he announced he was running for president in 2015, Trump said, "I'm really rich."
He added, "That's the kind of thinking you need for this country ... Because you've got to make the country rich. It sounds crass ... It's not crass ... I'm going to bring money in, and we're going to save it."
At that time, Trump's campaign released a statement that claimed he was worth $8.7 billion. But, later that year, Bloomberg put his value at $3 billion.
Trump called Bloomberg's 2015 report "stupid."