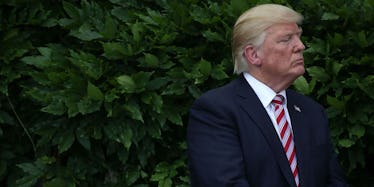 Nearly 200 Members Of Congress Are Suing Trump In Unprecedented Move
Alex Wong/Getty Images
Almost 200 Democratic members of Congress filed a federal lawsuit against President Donald Trump on Wednesday, alleging he's violated the Constitution by profiting from foreign governments via his business empire.
A total of 196 members of Congress joined the suit.
According to The New York Times, this is the largest number of sitting Congress members to ever sue a president.
Wednesday also happens to be Trump's 71st birthday, and it's probably safe to say he doesn't appreciate being sued on the same day.
Trump is being accused of violating the Emoluments Clause of the U.S. Constitution, which bars federal officials from accepting gifts or titles from foreign governments without the approval of Congress.
The lawsuit states,
The founders ensured that federal officeholders would not decide for themselves whether particular emoluments were likely to compromise their own independence or lead them to put personal interest over national interest. An officeholder, in short, should not be the sole judge of his own integrity.
It adds,
Defendant, President Donald J. Trump, has a financial interest in vast business holdings around the world that engage in dealings with foreign governments and receive benefits from those governments. By virtue of that financial interest, [Trump] has accepted, or necessarily will accept, "Emolument[s]" from "foreign State[s]" while holding the office of President of the United States.
Trump kept ownership of his business after he became president, which is the central issue when it comes to these lawsuits.
As USA Today highlights, Trump's business empire includes more than 500 business entities in at least 20 nations. These ventures include hotels, golf courses, and apartment buildings.
In short, Trump has ongoing business ties worldwide, which involve interacting with foreign governments, putting him in dubious legal territory.
The primary concern here is that Trump might act on behalf of his own business interests, rather than doing what's best for the country.