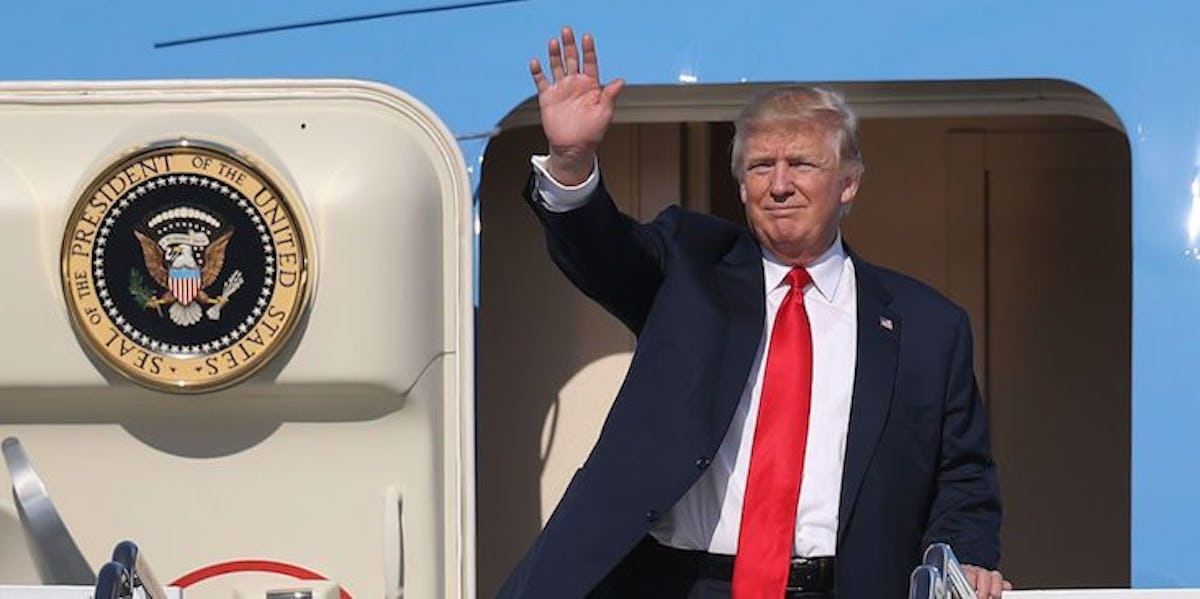 How Many Days Trump Actually Spent In The White House In His First 100 Days
Getty
Donald Trump officially reaches 100 days in office on Saturday.
So far, he hasn't gotten all that much done, despite his lengthy promises.
Trump has managed to spend a lot of time traveling...but that traveling hasn't exactly been presidential.
Many presidents, like Barack Obama, spend some of their first 100 days traveling to meet with foreign dignitaries.
Trump, on the other hand, has spent a good chunk of his first 100 days traveling to and from Florida.
With seven weekends at Mar-a-Lago, Trump has traveled to and from West Palm Beach, Florida on 14 of his first 100 days.
Now, the flight between DC and West Palm Beach is relatively short -- although each hour of flying Air Force One costs over $200,000 -- so it's not like he spent those entire days just being in transit.
He typically has meetings, briefings and events on the same day as those flights, both in Florida and in DC.
Trump has spent 25 of his first 100 days in Florida.
As mentioned, some of those 25 days included traveling from D.C. to West Palm Beach, so it's not like he was only in D.C. for 75 of the first 100 days of his presidency.
It's more like only 86 at-least-partial days in D.C.
But, yes, technically speaking, a quarter of Trump's first 100 days as president have been spent at his Mar-a-Lago resort, which is neither the White House nor the house of a foreign dignitary.
Just for context, Obama visited nine countries in his first 100 days as president.
In addition to the 25 days in Florida, Trump spent about eight of his first 100 days moving outside of Washington, D.C.
He took a handful of day trips, about half of which were for public political appearances.
He went to Milwaukee in mid-April and Detroit in mid-March to talk about manufacturing. In Milwaukee, he also signed an executive order on "Buy American, Hire American."
Trump met with Republicans at their retreat in Philadelphia in late January.
He is marking his 100th day with a rally in Pennsylvania on Saturday night.
Otherwise, Trump's day trips have been spent visiting his golf course in Virginia.
Trump has spent four of his first 100 days at the Trump National Golf Club in Sterling, Virginia, according to the New York Times.
That doesn't necessarily mean he was golfing, just that he was at Trump golf club.
Just under a third of his first 100 days included a visit to a Trump property, which has raised ethical concerns.
Overall, 19 days of Trump's first 100 have included a visit to a golf course.
So, yes, about a fifth of his presidency thus far has involved golf.
Citations: President Donald Trump touts manufacturing, promises help for Wisconsin dairy farmers at Snap-on in Kenosha (Milwaukee-Wisconsin Journal Sentinel), Trump: 'Build new plants in Michigan' (Detroit News), PRESIDENT TRUMP ADDRESSES GOP RETREAT IN PHILADELPHIA (ABC), Tracking the President's Visits to Trump Properties (New York Times)