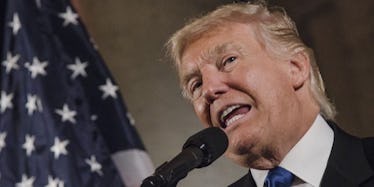 Donald Trump Trying To Sing Along At His Concert Is Now The Greatest Meme
REX/ Shutterstock
Based off his frequent Twitter rants and controversial leaked conversations, Donald Trump is an open book.
At this point, we know almost too much about the president-elect, but last night we learned something new about him: He really likes to sing.
OK... OK, that isn't exactly a proven point. But based off the hilarious memes that have surfaced from last night's Make America Great Again Welcome Concert, we can assume he enjoys a good tune.
Despite the fact that not too many folks came out to the event and the live-stream from the inauguration concert was below par, the Donald seemed to be enjoying himself.
All right, all riiight! Let's get this party STARTED!
Apparently, a ton of folks online took clips of Trump trying to sing along at his inaugural concert and turned it into different memes -- and I have to admit, they're pretty damn funny.
In the clips, you can see the president-elect bopping around and mouthing some lyrics while his secret service agent sits behind him with a blank stare on his face.
For most of the memes, he's singing along to Lee Greenwood's "God Bless The USA," but Twitter does not care.
"When you're pretending to know the lyrics."
It's cool, man! We forgot the lyrics to 3 Doors Down years and years ago.
"God Bless Trump's America."
Please note the mortified look on his poor security guard's face.
"Trump is ~feeling~ it."
What a rockstar.
Rock 'n roll, baby.
LOL. This act left him speechless.
Basically, nothing is sacred -- especially videos of Donald Trump singing along to his own concert by himself.
One Twitter user in particular claimed that "life is just one big meme" after watching Trump sing along at the inaugural event.
At this point, I really couldn't agree more with that description.
Citations: Twitter Notices Donald Trump Dancing and Singing Along at His Inaugural Concert (Cosmopolitan)