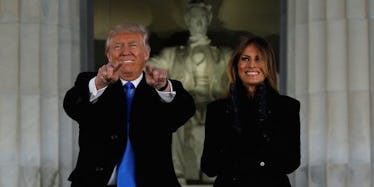 Sad Pics Of Inauguration Crowd Sum Up How Excited People Are For Trump's Term
REUTERS
Donald Trump is the most unpopular president-elect in modern history.
His approval rating is an abysmal 40 percent.
Simply put, a lot of people think Trump is the human equivalent of a dumpster fire and are not very enthused about the fact he's America's next president.
This helps explain why the opening events for Trump's inauguration look really lonely, empty and sad.
Sucks to not have friends (and maybe don't book 3 Doors Down to play the night before your inauguration).
If you need some fresh air and space to run around, it could be a smart move to head on down to DC and stretch out at Trump's inauguration.
The crowd also appeared to be fairly homogenous (aka the vast majority in attendance were white, much like Trump's cabinet picks).
Honestly, the crowd that held a gay dance party outside of Mike Pence's DC house on Wednesday night was a lot more impressive.
But points for enthusiasm, I guess?
Meanwhile, President Obama leaves office with an approval rating of 60 percent.
He was also recently voted the most admired man in America, which likely irks Trump in ways most of us can't begin to fathom.
Relatedly, Obama had pretty significant crowds at his 2009 inauguration concert.
The crowd at Trump's inauguration is poised to be much smaller than Obama's in 2009, and might even be smaller than the Women's March on Washington, which is set to occur on Saturday, January 21.
Trump has struggled to inspire celebrities, musical artists and the general public to attend his inauguration.
Perhaps things would be different for him if he didn't spend his days tweeting incendiary comments aimed at civil rights legends like Congressman John Lewis.
It also doesn't help he suggested he wants to deport millions of people, target specific religious groups and start a new nuclear arms race, among other unsettling proposals.
Long story short, on January 20, most Americans are saying goodbye to a leader they love and hello to one they despise.