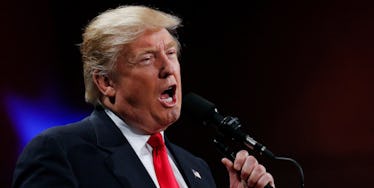 Trump's Inauguration Band Will Take You Back To Your Angsty Middle School Days
REUTERS
The Presidential Inauguration Committee of Donald Trump just released details on the events for the celebration and they're... sad!
The Committee is hosting two celebratory events on Thursday, January 19, the day before the inauguration.  The events will be on the National Mall in Washington, DC and open to the public — no tickets required.
The most recognizable name on the list of participating performers is, drumroll please:
3 Doors Down.
No disrespect to 3 Doors Down, but I didn't even know they were still together, given that the last I've heard from them was like 2005 when a group of boys performed "Kryptonite" for my middle school's seventh grade talent show.
The second-to-last time I heard of them was when we bullied my cousin for naming his garage band "Third Time Down" because it sounded too much like 3 Doors Down.
Third Time Down changed its name soon after.
But apparently, 3 Doors Down is still rocking the free world and will be doing so at Trump's inauguration. Look how far we've come.
The first of the celebrations on Thursday is "Voices of the People" and includes a handful of choirs and marching bands (guess some decided to sign up).
The second event is "Make America Great Again! Welcome Celebration," which is being held at the Lincoln Memorial. In addition to the post-grunge rockers, this event will feature country singers Toby Keith and Lee Greenwood, actor Jon Voight, singer Jennifer Holliday, The Piano Guys, DJ RaviDrums and The Frontmen of Country.
To put this in context, President Barack Obama also had an event at the Lincoln Memorial the day before his inauguration in 2009, called "We Are One."
That event featured Beyoncé, Mary J. Blige, Jon Bon Jovi, Garth Brooks, Sheryl Crow, Renée Fleming, Caleb Green, Josh Groban, Herbie Hancock, Heather Headley, Bettye Lavette, John Legend, John Mellencamp, Jennifer Nettles, Pete Seeger, Shakira, Bruce Springsteen, James Taylor, U2, Usher, will.i.am, Stevie Wonder, Jack Black, Steve Carell, Rosario Dawson, Jamie Foxx, Tom Hanks, Samuel L. Jackson, Ashley Judd, Martin Luther King III, Queen Latifah, Laura Linney, George Lopez, Kal Penn, Marisa Tomei, Denzel Washington, Forest Whitaker and Tiger Woods.
But just for the record, because I know people are asking: R. Kelly will not be performing at Trump's inauguration.
Glad we got that cleared up.
Citations: