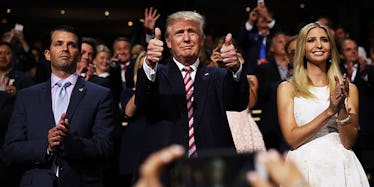 Donald Trump Finally Comes To His Son's Defense On Twitter: He Was "Innocent"
Joe Raedle/Getty Images
President Donald Trump is on the offensive.
After days of relative silence on the issue of his son meeting with a Russian lawyer during the course of the 2016 presidential campaign, the president assumed an aggressive tone on Wednesday morning, July 12.
Trump's view, in short, was straightforward: His son, Donald Trump Jr., is honest and innocent -- and the media is not to be trusted.
Here's what the president tweeted:
The mention of "a good job last night" was an allusion to Trump Jr.'s Tuesday night interview with Fox News' Sean Hannity.
During that interview, the president's son admitted that, in retrospect, he would "probably would've done things different.
Trump Jr. told Hannity,
I don't think my sirens went up or my antenna went up at this time because it [Russia] wasn't the issue that it's been made out to be over the last nine months, ten months... At the time, it wasn't this big news story.
In the pair of tweets posted on Wednesday morning to defend his son, the president also alluded to his son's transparency over the matter.
Trump Jr. did, indeed, publish what he called the "full email chain" between himself and Rob Goldstone, the associate who proposed the now infamous meeting with Russian lawyer Natalia Veselnitskaya, which took place last June.
But the president's son, who also serves as Executive Vice President of his father's business, only released the emails after the New York Times notified him that newspaper had itself obtained the emails and was going to publish them.
In his tweets on Wednesday morning, the president also said that stories based on unnamed sources should not be trusted, which could be interpreted as an attempt to discredit the Times' reporting on Trump Jr. meeting and related issues.
However, Trump Jr.'s own release of the emails related to the meeting confirmed the veracity of the reports about his son. In addition, the Times has at times identified its sources as White House officials.
In other words, the info being reported -- which was confirmed by Trump Jr. -- has seemingly come from people who work under President Trump at the White House.