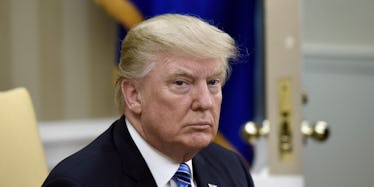 Reporter's Epic Donald Trump Diss After G20 Summit Is Going Viral - VIDEO
Olivier Douliery - Pool/Getty Images
Seasoned Australian political reporter Chris Uhlmann delivered his take on Donald Trump's G20 attendance and what it means for the United States (and the world) in a video that has quickly gone viral... for obvious reasons.
During the two-minute broadcast, Uhlmann used some harsh statements to define Trump's presidency, and he certainly didn't hold back.
Uhlmann was just warming up when his opening remarks stated that Trump "has no desire and no capacity to lead the world."
Uhlmann — who describes himself as a centrist, according to The Guardian — continues with the digs. Trump "has pressed fast forward on the decline of the United States as a global leader," he said, and states that the president has alienated himself from America's allies and failed to unite countries' leaders during the G20 summit, though he had the opportunity to do so.
Uhlmann believed countries were ready to unite against North Korea's recent missile launch, but that conversation never happened at the summit (even though it did on social media).
Uhlmann also took the broadcast as an opportunity to address the president's most dangerous resource: Twitter.
According to the footage, Uhlmann said Trump is "a man who barks out bile in 140 characters, who wastes his precious days as president at war with the West's institutions — like the judiciary, independent government agencies, and the free press."
We told you he wasn't holding back.
Many took to Twitter to throw support behind the Australian journalist.
Even some familiar faces are standing behind Uhlmann.
Others, however, have pointed out the journalist's controversial past.
Even before Uhlmann's blistering critique, there has already been quite the commotion in American politics this week.
Ivanka Trump took over her father's seat at the working session on "Partnership with Africa, Migration and Health" on Saturday morning during the G20 summit, the government ethics director chose to resign, Donald Trump Jr. met with a Russia-linked lawyer during the presidential campaign, and Trump's latest tweets about his meeting with Vladimir Putin have left cause for concern.
Well, someone had to provide the cherry to top off the week.