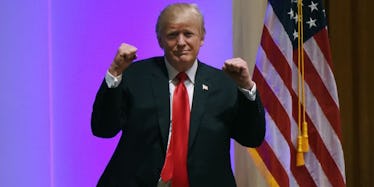 Government Ethics Director Resigns Due To "Current Situation," So We're Screwed
Olivier Douliery-Pool/ Getty Images
On Thursday, July 6, Office of Government Ethics Director Walter Shaub Jr. abruptly resigned.
According to NPR, this decision was linked to the fact Shaub and the Trump administration have butted heads for months, especially in relation to the president's continued links to his business empire.
Shaub has accepted a job with the Campaign Legal Center, a nonpartisan organization of election-law experts.
He told NPR "the current situation has made it clear that the ethics program needs to be stronger than it is," adding that he'll have more flexibility to push for reform at all levels of government at the Campaign Legal Center.
Shaub, whose last day will be July 19, has headed the ethics office since 2013, after being appointed by former President Barack Obama. His term was set to expire in January 2018.
Shaub posted his resignation letter on Twitter, and he quickly became a trending topic.
It seems Shaub was fed up with attempting to address Trump's conflicts of interest, among other issues, and wanted to move on.
Shaub has been highly critical of Trump for a while now.
Back in November 2016, Shaub was behind a series of tweets from the ethics office Twitter that mocked Trump, including one that said, "Brilliant! Divestiture is good for you, good for America!," NPR reports.
Subsequently, on January 11, not long before inauguration, he criticized Trump over his plan to avoid conflicts of interest while speaking at The Brookings Institution.
Trump's plan involved moving his business holdings into a trust run by his two sons and a longtime Trump executive, Allen Weisselberg.
Historically, presidents have put whatever assets they have into blind trusts managed by third parties.
At Brookings, Shaub made it clear he didn't feel Trump had gone far enough in this regard.
He said,
I wish circumstances were different and I didn't feel the need to make public remarks today. You don't hear about ethics when things are going well. You've been hearing a lot about ethics lately. I need to talk about ethics today because the plan the President-elect has announced doesn't meet the standards that the best of his nominees are meeting and that every President in the past four decades has met... [Trump's] sons are still running the businesses, and, of course, he knows what he owns... That's not how a blind trust works. There's not supposed to be any information at all.
Beyond Shaub's resignation, Trump's ongoing ties to his business empire have led people to accuse him of violating the U.S. Constitution as well as several lawsuits, including one recently signed by nearly 200 Democratic members of Congress.