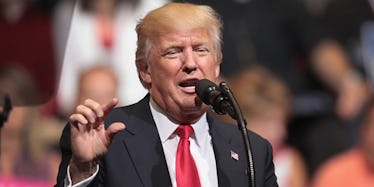 Trump Asks If Kim Jong-Un Has "Anything Better To Do" After North Korea Fires Missile
Scott Olson/Getty Images
Donald Trump responded to North Korea's latest missile launch with a tweet directed at the country's leader, Kim Jong-Un.
On the eve of America's Independence Day, North Korea claimed to have launched its first successful test of a long-range missile, one that supposedly has the capability to "reach anywhere in the world," according to CNN.
As a result, Trump suggested that Kim Jong-Un has nothing better going on.
"North Korea has launched another missile," the president tweeted. "Does this guy have anything better to do with his life?"
While yes, we're all in agreement that North Korea is not behaving properly, many were unhappy with the way in which Trump addressed the situation on social media.
Some people responded to the president's tweets to share their thoughts.
Many weren't happy with the way Trump addressed foreign policy issues online.
CNN reports that this missile reached a height of 2,802 kilometers, 1,741 miles — the highest altitude one has ever reached.
The timing is especially important, CNN notes, not only as we celebrate our independence, but as the G20 summit plans to meet this week. This test also comes several days after President Trump spoke with Japanese and Chinese leaders about North Korea.
The site further reports that the president's national security, military, and diplomatic advisers were holding an impromptu meeting about the launch.
According to CNN,
US military technical experts are now reviewing all data and intelligence gathered by US satellites, aircraft, and other systems to determine if North Korea's claim that it fired an intercontinental missile is true.
Japanese Prime Minister Shinzo Abe is in agreement with America that something needs to be done about North Korea, according to The Washington Post, though he did not take on Trump's tone. The prime minister plans to work closely with the U.S. and South Korea to address these issues, but claims China and Russia should be doing more.