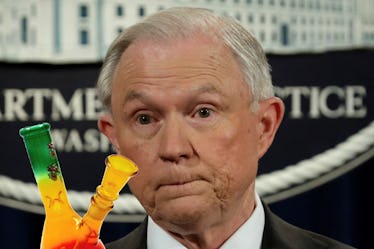 Attorney General Sessions Might Chillax With Federal Crack Down On Weed
Reuters
Attorney General Jeff Sessions isn't a favorite among millennials, marijuana advocates or anyone who doesn't like our government to have ties to Russia or their role in possibly rigging our presidential election.
Sessions, who at one point made a joke that he thought the Ku Klux Klan was "OK, until he learned that they smoked marijuana," said just earlier this week that America would not be a better nation if they "sold [marijuana] at every corner grocery store."
I'm not saying this to make you paranoid -- there may be a silver lining.
Politico is reporting that Sessions privately told some Republican senators that he would respect states' rights when it came to legalizing weed.
According to Kentucky Republican Rand Paul, Sessions told him he would "have some respect for states' rights on these thing."
Paul added,
I'll be very unhappy if the federal government decides to go into Colorado and Washington and all of these places.
Which makes sense. He's from Kentucky. AKA, home of Kentucky Fried Chicken. AKA, one of the most perfect foods you can consume while high, if you don't have a Popeye's nearby.
A Republican senator from Colorado, where you know weed is legal because you Googled "where is weed legal" last week, told Politico that "nothing at this point has changed."
Senator Cory Gardner believes, through conversations with White House officials, Obama-era policies will continue, allowing states to impose marijuana laws.
Eleven senators, including Democrat Elizabeth Warren and Republican Lisa Murkowski, sent a letter to Sessions after Spicer's remarks about there being a "crack down" on marijuana.
In part, it read:
We respectfully request that you uphold [Department of Justice]'s existing policy regarding states that have implemented strong and effective regulations for recreational use. It is critical that states continue to implement these laws.
Sessions made those remarks about the KKK and weed in 1986. Twenty years later, maybe he's cool with recreational and medicinal marijuana? I mean, he does look like a Keebler elf... they make cookies... high people LOVE cookies.
Citations: Jeff Sessions Actually Might Be Chill About Weed, Maybe (Vice)