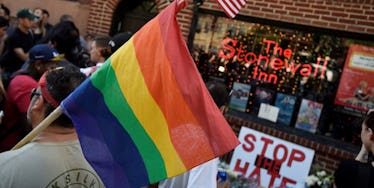 One Man Is Fighting To Ban Conversion Therapy Before Mike Pence Can Make It Legal
REUTERS
Members of the LGBTQ+ community remain under constant duress as they await Trump's next move as our 45th President. But a Philadelphia state official, Brian Sims, has at least one plan to completely abolish conversion therapy from his city.
Conversion therapy, otherwise known as reparative therapy, is a crock-of-shit tactic that uses "psychological-based" treatment meant to alter your sexual orientation from homosexual to the heterosexual norm.
While past treatments include the use of extreme shock therapy, lobotomies and drugs to get the gay out, it's the after effects of depression, anxiety and potential suicide that truly cause the most damage.
This type of "counseling" is alarming and extremely disturbing, putting a person through extreme means of trauma in order to change who they are with no real proof of success in the long run. The practice has been debunked time and time again by the scientific community.
Hear that, Mike Pence? CONVERSION THERAPY DOESN'T FUCKING WORK.
While the Obama administration was extremely vocal on its ban of conversion therapy and their all-around support of LGBTQ+ rights, Vice President Mike Pence's anti-LGBT endorsements throughout his career have left the futures of many in question over the next four years.
State Representative Brian Sims aims to eliminate that worry.
As the very first gay individual brought onto a Pennsylvania legislature, Sims aims to seek out exactly when and where the therapy is taking place as a means to stop it, according to CBS Philly.
"It's not a full-time therapist who puts it on their sign that they practice conversion therapy," Sims said. "They're known within a community, within a church, within a parish that they'll help your son or daughter if they're going through these issues."
Sims is ready to dust himself off and try again, as this is his second go-around at getting conversion therapy banned. The proposed bill would completely ban the practice throughout the city.
Here's hoping his efforts make a lot of noise.
The rights of myself and millions of other LGBTQ+ men and women are in danger following this year's inauguration, so it's amazing to see someone already stepping up and taking a strong stance against those in favor of such harmful "medical care."
No one should ever be forced into altering their sexuality, and you should never let someone else's beliefs influence your own.
The practice has already been banned in California, New York, Vermont, New Jersey, Oregon and Illinois, as well on city-level in Seattle, Cincinnati and Miami Beach.
While there are a wide array of ways people can continue to support the LGBTQ+ community, let's see if the actions of Brian Sims encourages others with political clout to step forward and make some big moves in other states.
We're waiting.
Citations: Officials in Philadelphia are attempting to ban LGBTQ conversion therapy, and we 100% support this (Hello Giggles)