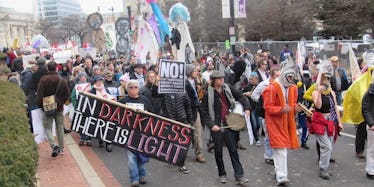 45 Powerful Photos That Prove Protests Dominated Donald Trump's Inauguration
John Haltiwanger
On Friday, January 20, Donald Trump became the 45th President of the United States.
While inaugurations are often very joyous occasions, this was definitely not the case for a majority of the country.
Trump enters office with historically low approval ratings.
In fact, he was the most unpopular president-elect in modern history.
This helps explain why there were large protests against Trump across the nation's capital throughout Inauguration Day.
Unfortunately, some of these protests turned violent, and there were some clashes with police at times.
But many of those who came out to express their discontentment with America's new president did so peacefully, as is their right.
For the nation's sake, let's hope Donald Trump is a good leader.
But his rhetoric, policy proposals and general demeanor (tweets), definitely give a lot of people — especially historically marginalized groups — valid reasons to feel apprehensive about his presidency.
Trump has called for the deportation of millions of people, the repression of reproductive rights, a new nuclear arms race, discriminatory policies toward Muslims and a "law and order" approach to criminal justice.
He's frequently displayed a lack of compassion and respect for minorities, said and done offensive things toward women and made it clear he's no friend of the press.
In spite of the fact Trump said he would "drain the swamp" and rid Washington of rampant corruption, he's nominated people for important cabinet positions that suggest he intends to do the complete opposite.
Trump also picked the former head of Breitbart News, a white nationalist publication, to be his chief strategist.
He's displayed unprecedented levels of nepotism by picking his son-in-law, Jared Kushner, to be a senior adviser and allowing his daughter, Ivanka, to play a key role in the White House.
The man lost the popular vote by nearly 3 million votes but refuses to admit it — ignoring the voices of millions of Americans.
Meanwhile, Trump frequently tweets controversial things about his political opponents, most recently civil rights icon John Lewis. Some of his tweets have even angered foreign powers.
In short, his behavior is habitually unpresidential, and he hasn't given much of the country any strong reasons to feel optimistic about the fact he's now president.
It's no wonder thousands of people came out to protest during his inauguration, and many more are expected to follow on Saturday for the Women's March on Washington.
The crowd in DC during Trump's inauguration was full of protesters mixed in with his supporters.
It was also decidedly smaller than the crowd at Obama's 2009 inauguration.
Throughout much of the day, the media focused heavily on the protests, drawing attention away from Trump's big day.
Trump, who complained about people protesting against him the night after the election via Twitter (per usual), will undoubtedly be unhappy about this.
Here are 45 photos taken in Washington DC on January 20 that prove protests dominated the inauguration of America's 45th president.
The resistance has officially begun.