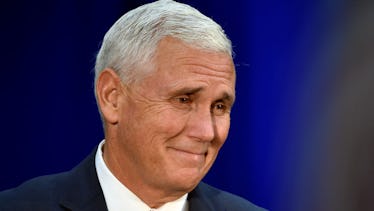 While You Hated On Trump, You Forgot How Terrifying Mike Pence As VP Would Be
REUTERS
On social issues, Trump's running mate is as regressive as it gets.
Mike Pence has now held public office for about 16 years. He was elected to the House of Representatives under Indiana's sixth congressional district in 2000, named chairman of the House Republican Conference in 2009 and has served as governor of Indiana since 2013.
Prior to all that, Pence was defeated by Democratic challenger Phil Sharp in his first two House races. Following the back-to-back losses, Pence entered the sunshine-soaked world of conservative talk radio, hosting the appropriately — albeit unoriginal — titled program, "The Mike Pence Show."
Since Mike Pence has been an elected official, he's opposed every piece of gay rights initiative that has crossed his desk. In 2007, there was HR.3685, a bill introduced by Barney Frank designed "to prohibit employment discrimination on the basis of sexual orientation." Pence voted no.
A year prior, Pence voted yes to H.J. Res.88, a proposed constitutional amendment that would define marriage as a "union between a man and a woman," thereby making same-sex marriage illegal nationwide.
He once advocated for gay conversion therapy on his website, stating, "Resources should be directed toward those institutions which provide assistance to those seeking to change their sexual behavior."
He's also stated that same-sex marriage was a sign of "societal collapse."
And let us not forget the wilting cherry on Mike Pence's sundae of hate, the Religious Freedom Restoration Act (RFRA). This one you may have heard of because it left the city of Indianapolis with $60 million in lost revenue, but, in case you haven't, here's the basic rundown:
RFRA made it legal for businesses in Indiana to discriminate and refuse customers service based solely on their sexual orientation. Pence conveniently framed the bill under the umbrella of religious freedom, as it "prohibits a governmental entity from substantially burdening a person's exercise of religion."
Many residents of Indiana — and people all over the United States — saw right through the atavistic legislation, and, when Pence signed the bill into law, the backlash was swift and significant.
Nine CEOs from massive companies in Indiana immediately called on Pence to amend the bill, stating, "[We are] deeply concerned about the impact (RFRA) is having on our employees and on the reputation of our state."
More than 130 executives and CEOs signed a human rights campaign petition against bills like RFRA. Massive companies such as Apple, Eli Lilly, the NBA, WNBA and NCAA all came out against the law directly.
Angie's List, the popular Indiana-based review website, halted plans to build a $40 million expansion to their headquarters in the state due to the passage of RFRA, while Salesforce, the $4 billion software corporation, pulled planned investment money from the table.
Pence — due to the fact that Indiana was seizing capital — eventually amended the bill. But make no mistake; Pence did not have a sudden change of heart. This was a money issue. And many companies, Angie's List CEO Bill Oesterle specifically, have stated that the changes to the bill were simply not enough:
Employers in most of the state of Indiana can fire a person simply for being lesbian, gay, bisexual, transgender or questioning. That's just not right and that's the real issue here. Our employees deserve to live, work and travel with open accommodations in any part of the state.
The Human Rights Campaign, one of the largest LGBTQ+ rights organizations in the United States, gave Pence a score of zero out of a possible 100. ZERO. With all the talk of Donald Trump's presidency — supposedly being a Mike Pence presidency with Trump as its mascot — we need to be aware of this man's record.
If you care about LGBTQ+ rights, you should — in no way, shape or form — be a fan of Mike Pence.
Elite Daily and 50 other media organizations partnered with Rock The Vote to register 100,000 women to vote. You can register right here (and men can use it too) :