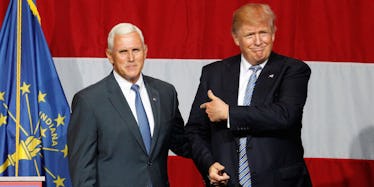 Here's Everything You Need To Know About Donald Trump's Vice President Pick
REUTERS
Donald Trump has officially picked Indiana Governor Mike Pence as his running mate for the presidential election.
This ends the wild ride that has been Trump's reality show "The Apprentice: Vice President." Other contestants for the spot included Governor Chris Christie, Newt Gingrich and Ivanka Trump.
The announcement comes just a few days before the start of the Republican National Convention in Cleveland, where Trump will be confirmed as the Republican nominee barring an act of God.
Trump was supposed to make the announcement live on Friday morning at a press conference but postponed it due to the attacks in Nice. Instead, he tweeted the announcement on Friday morning.
Pence is a widely hated governor in Indiana, especially by women, the LGBTQ+ community and people who like women and the LGBTQ+ community. Many Indianans are actually hoping Trump will take Pence away from their state.
We rated Pence a 7 out of 10 in Elite Daily's Official Terribleness Ranking. This is largely because of attacks on freedom he made against many people in his state.
Last year, Pence signed a legislation, the Religious Freedom Restoration Act, that essentially legalized discrimination against gay people. This year, he signed a giant, gross bill that limited women's access to abortions. This led to a campaign where women told Pence about their periods -- since he evidentially cares so much.
Pence cut Planned Parenthood funding, causing the Planned Parenthood in Scott County to close. That was the only HIV testing center in the county. The county was soon after hit with an HIV epidemic.
Pence also tried to start a state-run news service, which Trump would probably like since he could control the propaganda news.
He tried to ban Syrian refugees from Indiana and rejected fundraising for preschool.
Pence is seen as a fairly neutral choice for Trump. Whereas Gingrich and Christie come burdened with nationally-known scandals, Pence has gone relatively under the radar.
Back in April, Pence actually endorsed Trump's then-competitor Ted Cruz, citing his value of the Constitution.
Citations: NUVO, CNN, Huffington Post, CNN