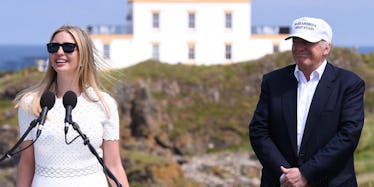 Here's Why Ivanka Trump Would Actually Make A Pretty Good Vice President
REUTERS
Hello, America. Welcome to Donald Trump's newest reality show, "The Apprentice: Vice President."
Trump has been vetting at least 10 people to join his presidential ticket in this year's election, according to Fox. This included Senators Bob Corker and Joni Ernst. However, both have said that they will not be the next apprentice.
Other competitors on this season include Newt Gingrich, Senator Jeff Sessions and Governors Chris Christie and Mike Pence. (You might remember Christie from his appearance on "Intervention: Stockholm Syndrome" and Pence from his short-lived program, "Tell Me About Your Period.")
Previews for next week's episode suggest there might just be a major twist. "The Apprentice" suggested it may be bringing in a former competitor to stir up chaos and up the stakes.
That former competitor is none other than Ivanka Trump: Donald's daughter.
While declining his own run on "The Apprentice: Vice President," Corker said on Wednesday,
His best running mate, by the way, would be Ivanka. I know that wouldn't pass muster, probably. But I don't know that I've met a more composed, brilliant, beautiful-in-every-way person.
Eric Trump – Donald's son and Ivanka's sister – also agreed.
She's got the beautiful looks, right? She's got -- she's smart, she's smart, smart, smart... She's certainly got my vote
Donald has frequently said that if Ivanka was not his daughter, he would be dating her. Trump commonly refers to her pleasant physical appearance as an appealing advantage for her.
The men surrounding competitor Ivanka – biological and otherwise – admire her for her beauty. They have also made it clear that her beauty is a definite qualification for the role of vice president.
Because as we all know, historically, beauty has been a requirement for the vice president. Otherwise, how would Dick Cheney have ever gotten that role?
But to be sure, competitors need to have more than just attractiveness to win "The Apprentice: Vice President."
So, we looked into Ivanka Trump's other qualifications for vice president.
Trump's Education
Trump is a highly educated individual. She completed high school at Choate, a private school, and went on to Georgetown University. Thanks to Georgetown, she's already familiar with at least part of Washington, DC.
But Trump didn't graduate from Georgetown. She transferred to the Wharton School at the University of Pennsylvania, where her father also went. This gave her a valued education in economics.
Trump's Business Experience
Ivanka Trump created a brand of clothing, shoes and accessories. In 2013, the brand did nearly $250 million in retail, according to the New York Times. She also works as the executive vice president of development and acquisitions at the Trump Organization.
So, she knows a thing or two about the role of vice president.
As Slate wrote, Ivanka held her own as a judge on "Celebrity Apprentice." This makes her a prime candidate to reappear in "The Apprentice: Vice President."
Trump also created the #WomenWhoWork campaign in order to celebrate women in the workplace. Few people could argue that Trump isn't constantly at work. In terms of work experience and dedication, she could actually be seen as a good role model. As she told the New York Times in 2013,
There will always be people who will say I wouldn't be in this position were it not for my last name, and I don't disagree with them. Truthfully, it would be a futile argument because they very well may be right. But I also know that I could be doing a lot less.
Trump's Political Experience
While Ivanka might not have exactly worked in politics, she has had some business with politics.
She gave Hillary Clinton $4,400 in donations for her Senate campaigns in 2006 and 2007, according to Politifact. In 2012, she endorsed Mitt Romney.
In 2013, she and her husband hosted an event for Democrat Cory Booker's Senate run. So, she definitely knows how to work across the aisle.
Donald has also said that he values her advice in his presidential run, according to the Associated Press. He huddled with her during breaks at the Republican debates.
Trump's Extracurriculars
Ivanka also has some special qualifications to be vice president: Namely, she is a mother. So, she knows how to deal with children, which is what she would be doing as vice president with Donald Trump.
Overall, she's in a pretty good position to jump into "The Apprentice: Vice President."
Given this evidence, what do you think?
Citations: Fox, Politico, Associated Press