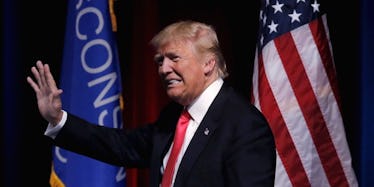 Trump Is The Biggest Creep In This 1994 Interview About His Newborn Daughter
REUTERS / Jim Young
Donald Trump is super misogynistic with a noted history of seeing women as decorative objects. He has very little respect for women and their use in the world besides being pretty things to have around.
So, it's not surprising when asked about a girl, Trump would think specifically about her sexualized body parts.
Trump regularly says if his daughter Ivanka weren't, you know, his daughter, he'd date her. So, it's not surprising he'd make those sexualized, objectifying comments about another one of his daughters.
What is surprising is Trump made sexualized, objectifying comments about his daughter... while she was a literal baby.
The Daily Show with Trevor Noah Get More: The Daily Show Full Episodes,The Daily Show on Facebook,The Daily Show Video Archive
Trevor Noah uncovered a clip from when Trump and then-wife Marla Maples were guests on the show "Lifestyles of the Rich and Famous" in 1994.
Their daughter Tiffany was 1-year-old. The host asked Trump,
What does Tiffany have of yours, and what does Tiffany have of Marla's?
Trump responded,
Well, I think that she's got a lot of Marla. She's a really beautiful baby. She's got Marla's legs.
He then pointed to his baby daughter's chest and said,
We don't know whether or not she's got this part yet, but time will tell.
Gross, gross, gross, gross, gross.
Trump has been making sexist comments for years, and that hasn't stopped during this presidential campaign. He attacked women like Megyn Kelly and Michelle Fields, along with rivals Carly Fiorina and Hillary Clinton.
Just last week, Trump said abortion should be illegal and women who get them should be punished. But, he said, the men who get those women pregnant should face no punishment.
He soon took back that stance after facing backlash from basically everyone, including pro-choice and pro-life groups, but he's already made his stance on women pretty clear.
Citations: Donald Trump Hates Women (Slate), Prepare to Be Creeped Out by What Donald Trump Once Said About His Infant Daughter (Cosmpolitan), Donald Trump Won't Stop Joking About Banging His Daughter (Mediaite), FULL TRANSCRIPT: MSNBC Town Hall with Donald Trump Moderated By Chris Matthews (MSNBC)