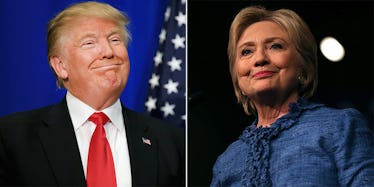 Donald Trump Attacks Hillary Clinton With A Video Of Her Barking Like A Dog
Getty Images
It's time to officially mark the start of a new era of lows for sexism in America.
Following Donald Trump's and Hillary Clinton's strong wins on Super Tuesday 2 this week, it's looking increasingly likely they will go head to head for the presidency this fall (unless the GOP manages to stop Trump).
It's no big secret Trump is a hugely misogynistic man with no filter and no limits. In fact, an attack ad released this week about Trump featured women reading a sampling of Trump's sexist comments.
As we all head toward the general election, Trump and Clinton are going to focus more on each other -- and you can bet Trump is bringing his blatant sexism to the presidential race.
Today, a video was posted on Trump's Instagram showing Clinton barking like a dog alongside clips of Vladimir Putin fighting and a gun-toting militant.
The obvious message of this video is Clinton is not equipped to stand up to foreign adversaries because, you know, women are weak and silly and incapable and so on.
I can tell you with absolute certainty this is just the beginning of Trump's misogynistic attacks on Clinton, and it is only going to get worse from here.
If you thought sexism didn't exist anymore, Trump's actions against Clinton over the next several months will, at the very least, serve to prove it is very much alive and well.
Citations: New Donald Trump video features Hillary Clinton barking like a dog (Mashable), Women Read Donald Trump's Sexist Remarks Aloud In This Powerful New Super PAC Ad — VIDEO (Bustle)