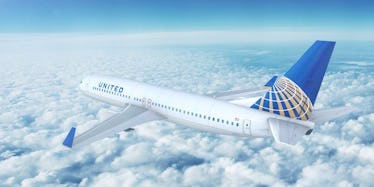 New Web Extension Will Clear United Airlines Out Of All Your Flight Searches
Shutterstock
In the aftermath of what has probably been the worst week ever for United Airlines, a new third-party Google Chrome extension is giving us a chance to quietly express all of our bitter feelings toward the corporation.
The "Drop United" tool, whose creator is unknown as of now, allows you to avoid booking a United flight by removing the company from well-known travel search engines, such as Kayak, Expedia, Google Flights and even Google Search.
The extension comes amid a whirlwind week of PR nightmares for United, from passenger David Dao's unusually harsh ejection from the plane when his flight was overbooked, all the way to an actual scorpion landing on a man's head and stinging him.
The "Drop United" extension's description reads,
Corporations can treat you like shit because you'll eventually forget you were ever mad. Drop United is a Chrome extension that drags United Airlines off your flight search results. So the next time you search for a flight, United won't have a seat in your options. Welcome to the United States of Humanity.
Notice the language in that description. The tool is "dragging" United Airlines from your search results.
Daaaaamn.
Despite United Airlines obviously being a huge company in its industry, it's getting harder and harder to believe the corporation can bounce back from the events of this past week.
Not only did David Dao sustain some pretty awful injuries after he was violently removed from the plane at Chicago O'Hare International Airport on April 9, but United CEO Oscar Munoz's letter of apology was almost more tone-deaf than that ridiculous Pepsi commercial.
Munoz wrote in the letter,
As you will read, this situation was unfortunately compounded when one of the passengers we politely asked to deplane refused and it became necessary to contact Chicago Aviation Security Officers to help. Our employees followed established procedures for dealing with situations like this. While I deeply regret this situation arose, I also emphatically stand behind all of you, and I want to commend you for continuing to go above and beyond to ensure we fly right.
If you're also feeling a rage bubble swell inside your chest reading Munoz's letter, you can boycott United Airlines by downloading the Chrome extension here.
Citations: New "Drop United" Tool Blocks The Airline From Travel Search Engines (Refinery29), Text of letter from United CEO defending employees (Associated Press News), Drop United (Chrome Web Store)