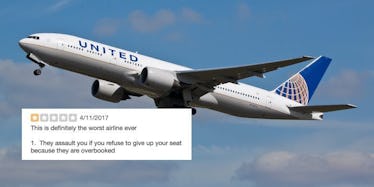 United Airlines' Reputation Is Being Destroyed One Yelp Review At A Time
Shutterstock/Yelp
Something about United Airlines hasn't been very "united" at all.
Oh, that's right! This is the airline that banned passengers from wearing leggings during flights. Believe it or not, that's United Airlines' way of being nice, it seems.
The airline is in the news yet again after a passenger was forcibly removed from one of their overbooked flights.
As we previously reported, a passenger named Audra Bridges claims the airline was offering up $400 and a comped hotel room to overbooked passengers on a flight from Chicago to Louisville.
The catch? They'd have to hop on another flight at 3 pm the next day. As expected, no one moved. I mean, would you have moved if you were already seated on the plane and ready to fly to your destination?
When passengers didn't move, a man was forcibly removed from the aircraft by law enforcement officers in Chicago. During the aggressive removal, the man's head was slammed against an armrest.
A shocking video of the bloodied man, who turned out to be a doctor, hit the internet shortly after the incident. Jimmy Kimmel even recreated the horrifying footage mocking the company.
Now, United Airlines is facing backlash from just about everyone under the sun for handling the situation the way it did -- even Yelpers.
If you know anything about the way Yelp works, you know customers usually flock to the review site to share their experiences with just about any legitimate business in existence.
Thanks to Yelp, let's just say people are wasting no time dragging United Airlines through the mud these days.
This is what a PR nightmare looks like.
And you thought the leggings incident was bad?
People are not holding their breath after this one!
Due to the influx of negative reviews as a result of the recent incident, Yelp has had to monitor users' comments.
Unsurprisingly, this isn't the only bad news for United.
According to CNN, United Airlines has already lost $250 million in market value on April 11 alone following the shocking incident.
Yikes.
Citations: United's Yelp page is getting slaughtered mercilessly right now (Mashable)