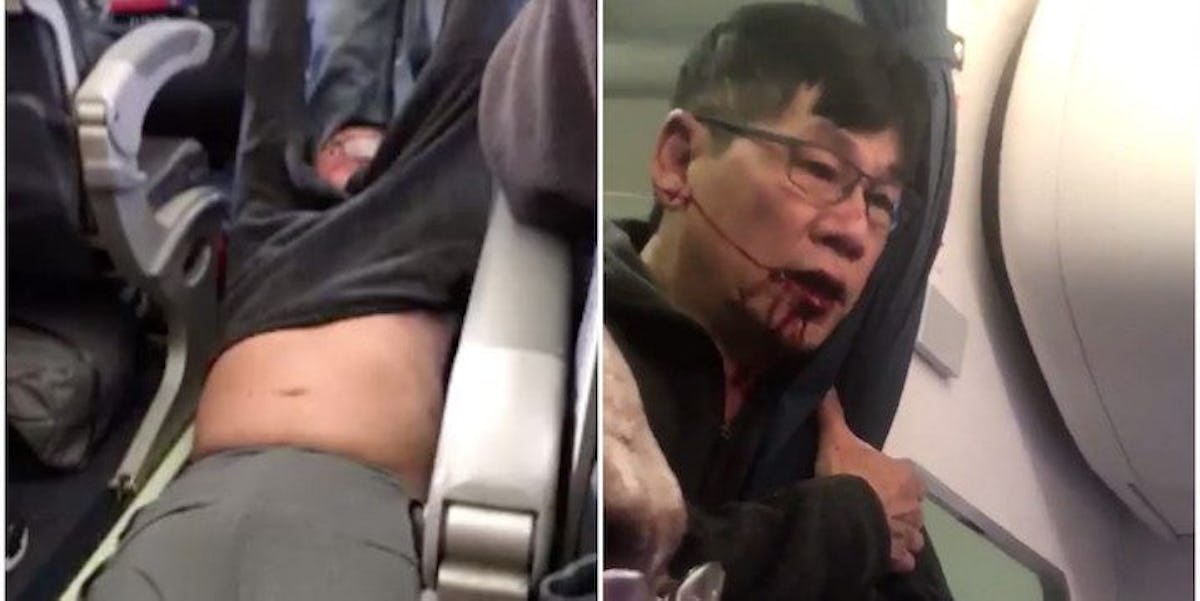 United CEO Praises Crew For Going 'Above And Beyond' After Dragging Incident
Facebook/Twitter
The United Airlines CEO sent his employees a letter after a video of a passenger being dragged off a plane went viral.
On Sunday, April 9, a man was physically forced off an overbooked United flight at Chicago O'Hare International Airport. He was bloodied and dragged off the plane by law enforcement officials.
The videos of the incident are shocking.
Oscar Munoz sent United employees a letter detailing the situation, stating that he stands with them.
He said he was "upset" to hear about the news, but that the "facts and circumstances are still evolving, especially with respect to why this customer defied Chicago Aviation Security Officers the way he did," according to AP.
Munoz was clearly defending his employees in the letter.
He wrote that the man was "politely asked to deplane" but refused, so Chicago Aviation Security Officers were brought in "to help." It was the security officers who dragged the 69-year-old off the plane.
Munoz wrote,
While I deeply regret this situation arose, I also emphatically stand behind all of you, and I want to commend you for continuing to go above and beyond to ensure we fly right.
The CEO included a summary of the flight, as compiled by United.
According to the summary, United asked for volunteers to get off the flight. They then "followed our involuntary denial of boarding process (including offering up to $1,000 in compensation)," i.e. randomly selected people to kick off the overbooked flight.
According to AP, the summary said,
When we approached one of these passengers to explain apologetically that he was being denied boarding, he raised his voice and refused to comply with crew member instructions.
The man was asked several times to leave the flight he paid for and refused, becoming "more and more disruptive and belligerent."
The security officers were brought on, and again, the man refused to leave the seat he paid for.
The summary continues,
Chicago Aviation Security Officers were unable to gain his cooperation and physically removed him from the flight as he continued to resist — running back onto the aircraft in defiance of both our crew and security officials.
In its own statement, the Chicago Police Department said the man "fell."
Yeah, that's totally what the videos show.
The man was taken to the hospital with "non-life threatening injuries."
One of the officers who removed the man from the plane has been placed on leave, and the US Department of Transportation is reviewing the incident.
Munoz may have to do some apologizing to the public and less defending his employees to win back public trust.
The #NewUnitedAirlinesMotto hashtag was still going strong on Tuesday morning as denizens of the internet trolled the airline.
Investigations are ongoing.
Citations: United is investigating why authorities dragged a passenger off a flight — here's what it found (Business Insider), Text of letter from United CEO defending employees (Associated Press)