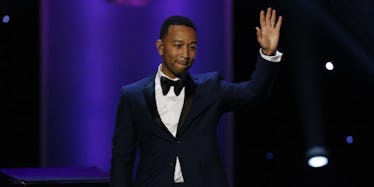 John Legend Doesn't Hold Back In This Heated Rant About The Minnesota Shooting
REUTERS
Philando Castile was shot and killed by a police officer in Minnesota on Wednesday.
Castile was pulled over for a busted head light and was reaching for his ID when the officer shot him several times. The aftermath of the shooting was filmed by his girlfriend, Diamond Reynolds, in a video that soon went viral.
The video led to social media outrage and demonstrations in Minnesota.
John Legend has long been outspoken on the Black Lives Matter movement and systemic oppression of black people. He was understandably outraged at the news of Castile's killing.
When the news of his death hit social media, many people expressed fatigue and numbness at having to emotionally deal with yet another innocent black person killed by the people who are supposed to serve and protect Americans. This was especially felt as Castile's killing came the same week Alton Sterling was killed by a police officer.
John Legend may have felt this as well, but as time went on his anger rose to the surface. He sent several tweets speaking to this pure, warranted anger.
In a time when celebrities and other public figures often stick to emotionless statements and careful words, it is a relief to see this feeling from Legend. He did not back down or try and couch his words. Legend said what he felt in response to a truly horrific incident.
If we all speak out like this, it's possible we can alter society. It's important to speak up when we hear discrimination and oppression. We cannot be silent.