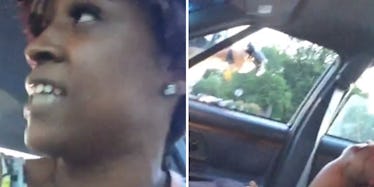 Chilling Facebook Video Shows Moments After Fatal Police-Involved Shooting
Facebook
Disturbing live Facebook footage has emerged showing the aftermath of a fatal shooting in Minnesota.
The video shows a man, identified by relatives as Philando Castile, 32, slumped in the driver's seat of a car with blood all over his white t-shirt in a St. Paul suburb at around 9 pm on Wednesday.
The woman recording claims they were pulled over for a busted tail light and that her boyfriend was shot as he reached for his ID.
She is surprisingly calm at the beginning of the video, but grows more and more distressed after she's pulled out of the car and seems to realize her boyfriend is dead.
A child is with her as well.
The woman is heard saying, "Please, officer, don't tell me that you just did this to him. You shot four bullets into him, sir. He was just getting his license and registration, sir."
The woman says her boyfriend was licensed to carry. "He let the officer know that he was... he had a firearm and he was reaching for his wallet," she says. "And the officer just shot him in his arm."
The officer yells, "I told him not to reach for it -- I told him to get his hand off it!"
The woman continues, "Oh my god, please don't tell me he's dead. Please don't tell me my boyfriend just went like that."
Police have yet to release a formal statement regarding the shooting, but interim St. Anthony Police Chief Jon Mangseth said the incident began when an officer pulled over a vehicle in Falcon Heights.
The video was only posted nine hours ago but has been viewed more than 2 million times. The incident is said to have sparked a wave of protests in the area Wednesday night.
You can watch the video in its entirety below, but be warned: it is extremely disturbing.
The upsetting live-stream comes just one day after a video emerged of another black man, Alton Sterling, being shot several times by police while pinned to the ground outside a Louisiana convenience store.
Sterling begins to struggle on the ground when a number of shots are heard.
An autopsy revealed he died of gunshot wounds to the chest.