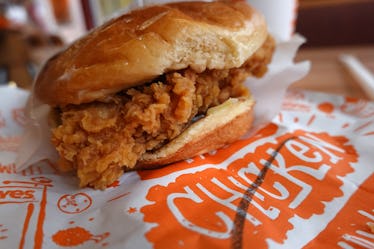 The Chicken Sandwich Wars Are Hotter Than Ever, And You Can Try Them All
Get ready for all the hand-breaded goodness you can handle.
Scott Olson/Getty Images News/Getty Images
The chicken sandwich wars have certainly heated up in 2021, with plenty of fast food chains entering the fray. From Burger King's Ch'King to Shake Shack's Hot Honey Chicken Sandwich, there are so many ways to enjoy your fave crispy chicken and bun combo. Whether you're looking to enjoy a new crispy chicken innovation or a classic fave, check out these 10 hand-breaded fast food chicken sandwiches for 2021.
You're probably aware of the fan-favorite chicken sandwiches at Popeyes and Chick-fil-A. But there are plenty of other fast food chains that have dropped their own contenders in the chicken sandwich wars in 2021, including McDonald's, KFC, and Carl's Jr. To top it off, many spots have a spicy and classic variety for you to choose from, as well as different toppings. With so many places to grab the crispy goodness, you'll get to be the judge of which fast food chain reigns supreme. Here are 11 fast food chicken sandwiches that you can chow down on in 2021.
When heading to a fast food chain to try out a chicken sandwich war contender in 2021, remember to keep in mind the CDC's most updated guidance on mask-wearing and social distancing.