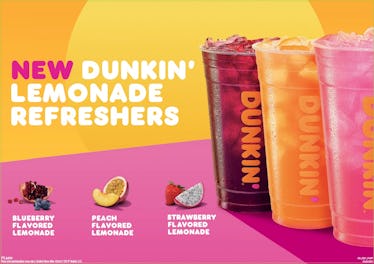 Dunkin' Has Lemonade Refreshers And Smoked Vanilla Cold Brew This Summer
The chain is even testing kombucha, too.
Courtesy of Dunkin'
Dunkin' is going all out for summer with plenty of new options to keep you vibing. The Boston-based chain introduced some fruity offerings and new takes on iced coffees to keep you going all season long. No matter what you're craving, Dunkin's summer menu has you covered with new treats and sips that might just put your go-to order on the back burner this season.
Dunkin' launched its first summer menu items in late May 2021, and the new summer menu has continued to be straight fire ever since then. Most recently on June 23, Dunkin' gave coffee stans something to cheer about with the addition of Sunrise Batch Iced Coffee, a Smoked Vanilla Cold Brew with Sweet Cold Foam, and a Smoked Vanilla Iced Latte. Dunkin's full-bodied, medium roast Sunrise Batch Iced Coffee will get you in the summer mood with its notes of toasted nuts and cocoa. You can get a medium-sized iced or hot Sunrise Batch Coffee for $2 through July 20.
The Smoked Vanilla Cold Brew and Smoked Vanilla Latte begin with a base of Dunkin' Cold Brew and Dunkin' Espresso, respectively, and they both feature Dunkin's Smoked Vanilla-flavored syrup. To take it up a notch, the cold brew gets the addition of Sweet Cold Foam and hot chocolate powder. A Medium Smoked Vanilla Iced Latte costs $3.99, while the Smoked Vanilla Cold Brew with Sweet Cold Foam is the regular price of a Cold Brew with a 70-cent upcharge for the foam.
Strawberry-flavored Popping Bubbles also hit menus on June 23, and they're boba-like balls you can add to any iced or frozen drink for 70 cents. They even come with special wide straw that'll remind you of all the boba sips you've had before.
If you need an idea of what to add Popping Bubbles to, look no further than Dunkin's new Lemonade Refreshers, which come in three flavors — Strawberry-Flavored Lemonade, Peach-Flavored Lemonade, and Blueberry-Flavored Lemonade. Dunkin's Lemonade Refreshers combine lemonade, flavored fruit concentrate, and B vitamins for an energy boost and feature pretty shades of pink, orange, and purple. These new sips come on the heels of another summer-ready release: Dunkin's Coconut Refreshers, which debuted in April 2021. So, you have plenty of 'Gram-worthy drink options that'll give you a boost. You can also order a classic lemonade from Dunkin' if you're craving the traditional option.
For snacking, check out Dunkin's Berry Powdered Donuts and Berry Powdered Munchkins. They feature Dunkin's signature donut recipe and are tossed in a berry-flavored powder that provides an Instagram-worthy shade of pink. Any flavor Lemonade Refresher will cost you $2.99 for a small, $3.29 for a medium-sized sip, and $3.59 for a large. To complement the fruity flavors of your refresher, you can also get a Berry Powdered Donut for $1.09.
Finally, Dunkin' is testing two kombucha flavors — Fuji Apple Berry and Blueberry Lemon — and an ElectroBrew Cold Brew in select locations in Massachusetts and Florida. The ElectroBrew is a blend of Dunkin' Cold Brew and coconut water for added hydration and electrolytes.
With so many summer offerings at Dunkin' locations nationwide, you'll have to make quite a few Dunkin' runs to try them all. They'll be available for a limited time through the summer. When you head to Dunkin', remember to keep in mind the CDC's latest guidance on social distancing and masking.
This article was originally published on