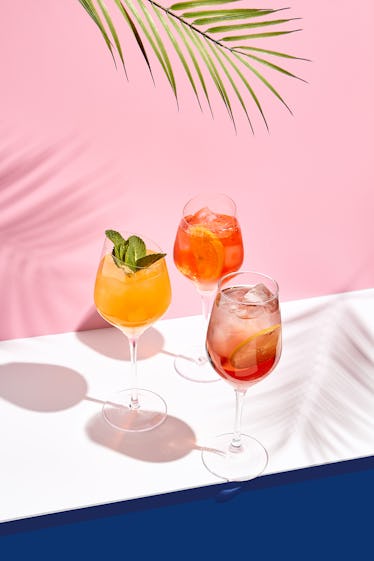 7 Drinks Like The Dirty Shirley That'll Bring The Nostalgia
Tastes like childhood (plus booze).
Shutterstock
Things are already heating before summer officially kicks off as TikTokers ramp up to rooftop season with cocktail recipes for days. In case you haven't heard, Shirley Temples are making a comeback in the form of Dirty Shirleys, aka *the* drink of summer 2022. The sweet and vibrant take on a vodka soda is a fun switch-up from the norm. But if it's not your jam, you can still sip on something equally as nostalgic when you check out these drinks like the Dirty Shirley. If you're 21 or older, you'll want to check out these fun and flavorful beverages that are basically a #TBT in a glass.
The Dirty Shirley first began making the rounds on social media in early May 2022. And a May 5 New York Times article helped set the trend ablaze. According to the Times, the boozy take a Shirley Temple — which is made with Sprite or 7UP, grenadine, and maraschino cherries (plus vodka to make it dirty) — became popular for its nostalgic flavor and sweetness. Fashion isn't the only Y2K time capsule to find its way back to the mainstream: the Dirty Shirley is reminiscent of childhood drinks that you can now spike for happy hours. According to bartenders and bar owners The Times spoke with, the Dirty Shirley "found a way to upstage the vodka soda."
If you want even more boozy nostalgia, kick it back with poolside drinks this summer, and learn how to make these seven cocktails (and mocktails) that are like the Dirty Shirley. With grenadine, the pops of color, and major throwbacks to a different eras, these sips are sweet, boozy, and perfect for the 'Gram. From a classic tequila sunrise to old school Clover Club cocktails, these concoctions will surely keep the drinks flowing.
There are so many more cocktails to sip on this summer — from Euphoria-inspired drinks to Sarah Jessica Parker's ready-to-drink Cosmopolitans. It's going to be cocktail hour all summer long.