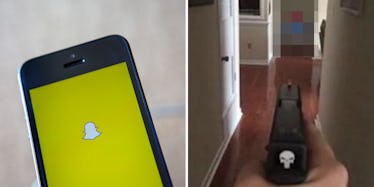 This Is The Disgusting, Racist Snapchat That Got Two Cops Suspended
Reuters/Snapchat
Two Memphis police officers were suspended, with pay, for their involvement with the disgusting photograph below — one for posting it on his Snapchat, the other for reposting it on Twitter. Apparently, this officer found it so hilarious he thought the world needed to see it. Well we did see it, and we are not laughing.
It shows a gun pointed at a black person emoji. To me, it looks like a child.
It was posted on the same day five Dallas police officers were killed by a sniper at a protest over the deaths of Philando Castile and Alton Sterling, two black men who were gunned down by cops last week.
We don't know the names of the officers yet, but their motive, considering the timing, seems clear as day.
In a press conference, Memphis Police Department interim director Michael Rallings said,
The image is disgusting and will not be tolerated... We cannot survive if we do not work together. We are not your enemy, we are your ally.
But Rallings tempered that passion by then hiding behind bureaucratic procedure:
My job is not shot off with my first emotion. My job is to find out the facts, determine if there is a violation and hold officers accountable.
The possible "violation" he's referring to here is this line from a Memphis Police Department policy that reads:
Employees must avoid any conduct which could compromise the integrity of the Department. This includes conduct related to materials posted on personal websites, social media, twitter, Facebook etc.
Being unwilling to say for certain, then and there, that this disgusting photograph doesn't violate that rule is like, after someone punches a baby in the head, saying, "We'll have to consult the rule book on baby-punching, and see if this qualifies as a violation."
South Memphis Police officer posted this on snapchat & only got suspended? so he gettin his job bck eventually? smh pic.twitter.com/N4xNTgegYm — Louie V Gutta (@LouieVGutta) July 9, 2016
Now, the key thing here, the crucial thing to notice, is not simply that there are two cops who are despicable enough to make a video like this. That's extremely repulsive, sure -- but the important fact is broader and more insidious: these officers seem to be so used to a white, anti-black environment that they didn't think twice about posting and reposting a picture like this.
That's the scariest part of all of this: that they didn't think posting a photograph mocking a black person getting murdered by cops would be seen as anything other than funny.