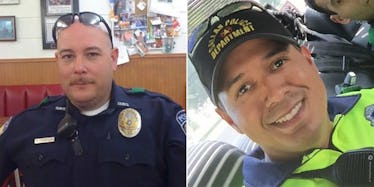 These Are The Officers Who Lost Their Lives In The Dallas Shooting
LinkedIn/Twitter
A Thursday protest in downtown Dallas turned into a "devastating night" for Dallas police after shots were fired during the demonstration. Five officers were killed as a result of the attack, and seven others were injured.
Here are their names:
Brent Thompson
The first officer identified was 43-year-old Brent Thompson, who had been serving with the Dallas Area Rapid Transit since 2009. Thompson married a fellow officer within the past two weeks and helped trained officers in Iraq and Afghanistan, according to CNN.
Thompson was the first DART officer ever killed on duty in its 27-year history.
DART Chief James Spiller said on the "TODAY" show, per NBC News,
This is very heartbreaking for us... We will definitely miss him, and we are also making sure that his family is taken care of.
Patrick Zamarripa
A second officer seems to have been identified as well, with apparent family members mourning the death of officerPatrick Zamarripa on social media.
By Friday afternoon, Zamarripa's father posted a message on Facebook saying he was waiting for his son's body to be moved to a medical examiner's office.
Zamarripa was also military man who survived three tours in Iraq. Upon returning from the Middle East five years ago, he joined the Dallas Police Department, The Washington Post reports.
He was 32.
Michael Krol
Krol was a Michigan native who worked for the Wayne County Sheriff's Office in his home state before leaving in 2007 to join Dallas PD, USA Today reports.
His mother told WXYZ-TV, ABC's Detroit affiliate,
He was living a dream of being a police officer. Just turned 40 in April. He knew the danger of the job but he never shied away from his duty as a police officer. He was a great caring person and wanted to help people. A wonderful son, brother, uncle, nephew and friend.
Krol was 40 years old.
Lorne Ahrens
Like Brent Thompson, Ahrens was married to a fellow officer.
Timothy S. Rodgers, a former prosecutor in Dallas County, told The New York Times,
There are very few officers I've met who are more passionate about doing the job right than that man. He was always calling me. He always had questions like, 'What can I do better in this situation?'
According to The Dallas Morning News, Ahrens has bought dinner for a homeless man and the homeless man's dog just a day before the attack that claimed the officer's life.
Senior Corporal Lorne Ahrens. End of watch July 7, 2016. 14 yr veteran of Dallas PD. RIP Corporal & thanks so much pic.twitter.com/RneSIXoiVa — JANEIAC123 (@jmomahony) July 9, 2016
The 48-year-old was a member of Dallas PD for about 14 years. He is survived by his wife, Detective Katrina Ahrens, and their two children.
Michael Smith
Smith was both a seven-year Army veteran and a Dallas Police officer for over 25 years, according to The Dallas Morning News.
His pastor, Todd Wagner of Dallas' Watermark Community Church, spoke about Smith in a statement,
Even when serving here as part of his job, he understood that loving people was the best way to protect and serve them. It genuinely troubled him when he saw people treated as objects or when protocol got in the way of personal care. He never compromised his responsibilities, but he never walked away from a compassionate response.
According to the Morning News, the 55-year-old had two teenage children and is survived by his wife of nearly 20 years.
Injured officers
Three other DART officers were injured: 39-year-old Misty McBride, 44-year-old Elmar Cannon and 39-year-old Jesus Retana, according to NBC News.
PHOTO: Injured DART Officer Jesus Retana. @NBCDFW #NBCDFWNow pic.twitter.com/lO5fbKtA0n — ScottGordonNBC5 (@ScottGordonNBC5) July 8, 2016
Dallas PD officers Gretchen Rocha, 23, and Jorge Barrientos were also hurt during Thursday night's attack, but their injuries are not life-threatening.
We will update you as more news becomes available.
Citations: Daily Mail, NBC News, The Dallas Morning News, Dallas shooting victims: Who are the slain officers? (CNN), Dallas Police Ambush: These Are the Slain Officers (NBC News), Officer Patrick Zamarripa survived three tours in Iraq before being killed in Dallas (The Washington Post), A newlywed, young dad among those slain in Dallas (USA Today), Mother of slain officer says he knew the danger of the job, wanted to help people (WXYZ), 5 Slain Dallas Officers Served Overseas and at Home (The New York Times), Profiles in courage (The Dallas Morning News), 'One of the good guys': Michael Smith had been a Dallas police officer for 25 years (The Washington Post), DART Identifies Officer Slain, Those Injured in Downtown Ambush (NBC News)