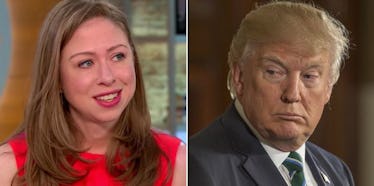 Chelsea Clinton Has Some Strong Feelings About Running Against Trump In 2020
YouTube/ REX/ Shutterstock
From the moment Donald Trump won the 2016 presidential election, Hillary Clinton supporters across the nation wondered one thing: Will Chelsea Clinton follow in her mother's footsteps?
Between both her parents' intense political involvement in the country throughout the years, it's easy to assume she'd be the next one in line to throw her hat into the election ring.
After supporting her mother during her campaign last fall and teasing she'd stay involved with politics after Hillary's painful loss, we continued to wonder whether or not she'd eventually run for office.
But now, we know the answer.
During an interview with CBS This Morning on Tuesday, April 4, Chelsea was asked whether or not she'd run for office -- and her strong answer will put your curiosities at bay.
Chelsea Clinton will not be running against Donald Trump in the 2020 presidential election because she thinks she "isn't the right person" to do so.
After being asked about her future plans regarding the election, she firmly said,
I clearly don't agree with our President but I'm not the right person to run to defeat him in 2020.
Norah O'Donnell, co-anchor of CBS This Morning, tweeted her response.
After giving a clear answer about her political plans, Chelsea said,
So right now, the answer is 'no' -- but I think we all need to be asking ourselves that question periodically. And I hope that a lot of young people use the election to think, 'Wow, should I run for public office? Am I the right person for a given job?'
So, there you have it.
Chelsea Clinton doesn't currently have plans of running against Donald Trump when the 2020 presidential election rolls around but encourages the youth to ask themselves if they'd foresee themselves in that role.
The fact Chelsea won't be running doesn't mean she's not staying involved, though.
In fact, she's writing a children's picture book for girls that will tell the stories of 13 inspiring women throughout history.
It's going to be called "She Persisted."
Just because Chelsea won't be running for office in 2020 certainly doesn't mean she's slowing down anytime soon.