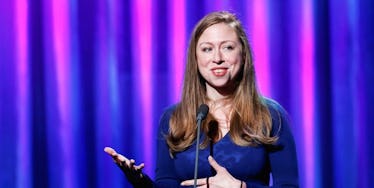 Chelsea Clinton Is Writing A Book For Girls, Because The Future Is Still Female
REUTERS
Chelsea Clinton isn't slowing down just because her mother did not win the presidential election in November.
The former first daughter is putting together a children's picture book.
True to the Clinton theme, this book is all about inspiring women throughout history and tells the story of 13 women.
And, no, Hillary Clinton is not one of those 13 women, although promos hint at a surprise extra woman's inclusion. If you want more about Hillary, you can pick up one of her own books (or see the movie, I guess).
The 13 women who are included in Clinton's book are Harriet Tubman, Helen Keller, Nellie Bly, Maria Tallchief, Claudette Colvin, Clara Lemlich, Ruby Bridges, Margaret Chase Smith, Sally Ride, Florence Griffith Joyner, Oprah Winfrey and Supreme Court Justice Sonia Sotomayor.
If you don't know who those people are, you can wait for Chelsea's book to come out on May 30 or do some quick Googling so you don't come out looking as ignorant as our commander-in-chief.
But we haven't even mentioned the best part of Clinton's upcoming children's picture book.
The title of it is so, so perfect.
Are you ready?
Clinton's book is called "She Persisted."
Sound familiar?
"She persisted" is what Senate Majority Leader Mitch McConnell said about Senator Elizabeth Warren when he made her stop talking during the confirmation hearing for Jeff Sessions as attorney general.
She was warned. She was given an explanation. Nevertheless, she persisted.
Clinton said,
I wrote this book for everyone who's ever wanted to speak up but has been told to quiet down, for everyone who's ever been made to feel less than.
Clinton added in a statement,
The 13 women in 'She Persisted' all overcame adversity to help shape our country — sometimes through speaking out, sometimes by staying seated, sometimes by captivating an audience. With this book, I want to send a message to young readers around the country — and the world — that persistence is power.
This is not Clinton's first book. She previously wrote "It's Your World: Get Informed, Get Inspired & Get Going" and co-authored "Governing Global Health: Who Runs the World and Why?"
"She Persisted" is illustrated by Alexandra Boiger.
Sounds like a pretty good elementary school graduation gift, no?
Citations: Chelsea Clinton announces new picture book, She Persisted (EW)