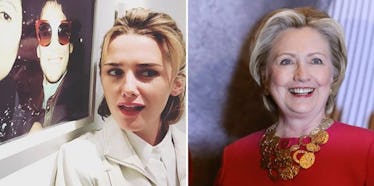 The Hillary Clinton Biopic Has Finally Been Cast And Fans Are Losing It
Instagram / REUTERS
If you miss having Hillary Clinton around, there's a movie coming out just for you.
"When I'm A Moth" is a biopic — no, I'm not sure the right way to pronounce that word, either — about Clinton.
But if you're a Clinton fan who doesn't want to relive 2016, don't worry. It has nothing to do with that (except, well, it's about Hillary Clinton).
Instead, "When I'm A Moth" focuses in on one very specific point in time. The movie looks back at 1969, when Clinton — then Hillary Diane Rodham — was living in Alaska.
Yes, that's right.
In case you didn't know already, Clinton actually did spend a year doing an "Eat Pray Love" thing in Alaska between college and law school. And by "Eat Pray Love," I really mean "work at a salmon cannery in a job that sounds super smelly."
Clinton will be portrayed by Addison Timlin, who starred in "Californication" as well as films "Little Sister" and "Like Me," which just started screening at SXSW.
Based on Timlin's social media, one could bet she's excited to portray Clinton.
Timlin told BuzzFeed she was "so, so heartbroken" when Clinton lost the election in November.
She said,
All I could think was, 'Oh my fucking god.' I was so sad for her. Playing her and thinking about her and reading about her and listening to her when she was a young woman, she is fucking remarkable. And she is adorable and she is so well-spoken and she is so charming, really. And she's done really incredible things, always — the whole time. I think she's pretty fucking great and I was devastated, especially because I thought she was super fucking capable. I don't think any of us expected what happened to happen — but in that way, it kind of gives the movie another shape.
"When I'm A Moth" is being directed and co-written by Magdalena Zyzak and Zachary Cotler, although they don't want you to call this movie a biopic. Cotler said in an interview with TheWrap,
It's about how politics makes you not real.
Clinton has said her time in Alaska was marked by fish. Her campaign website (sob) says she was first "tasked with gutting fish."
Dressed in a pair of thick knee-high boots, standing in bloody water, Hillary removed salmon guts using a spoon, as supervisors regularly yelled at her to speed up.
She wasn't very good at that particular job.
Timlin told BuzzFeed the movie isn't going to be particularly true to faith — perhaps why Cotler doesn't want you to think it's a biopic. She said,
It's less about that time in her life and [more] about this young woman starting to have the understanding that her life from that point forward will be lived in a very specific way as to not disturb anyone — to become a very well-liked person. I think it was all intentional, but I don't think it was disingenuous. I think a lot of people feel that way about Hillary Clinton, that she's always tried to be liked and that's what people have veered away from. It's interesting, but I think it's something, unfortunately, women all over the world deal with in every way — this tragic need to be liked.
People on the internet seem excited by the news of the Clinton film, as well as Timlin's casting...
Although some folks have reserves...
...and others are still reeling from that hell of an election.
"When I'm A Moth" began production in October 2016.
Citations: 'Californication' Alum Will Play Young Hillary Clinton in 'When I'm a Moth' (Exclusive) (The Wrap), Meet The Actor Who's Playing Young Hillary Clinton Onscreen (BuzzFeed)