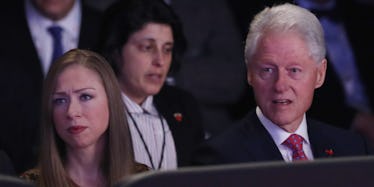 Chelsea Clinton Had The Most Hillary Reaction To Trump's 'Nasty Woman' Comment
REUTERS
Chelsea Clinton, daughter of Hillary, was asked about Donald Trump calling her mother a "nasty woman."
Trump made the comment during the third and final presidential debate in Las Vegas, Nevada on Wednesday night.
Clinton was in the middle of answering a question about Social Security when Trump butted in to call her "such a nasty woman."
Clinton was saying her policy for Social Security would raise payroll contributions to the wealthy, including Trump and herself.
She took a dig at Trump, saying his taxes would raise unless he can "figure out how to get out of it," as his old tax returns have shown he has done in the past.
"Nasty woman" has become a rallying cry for women around the country who have heard similar sexist remarks made against them.
But Chelsea's first reaction to Trump's insult of her mother had nothing to do with the personal attack.
Instead, much like her mother, she was thinking about policy.
Chelsea was asked about the comment during an appearance on "The Talk" on Thursday. She said,
My first reaction was, 'Oh no, now no one's going to pay attention to Social Security,' which is actually a really important conversation and a topic that hasn't gotten enough attention in this election season.
The former first daughter went on to say she hopes the comment will raise awareness of the issue of Social Security.
Since so many people are watching the clip to see Trump's infamous interruption, they'll also get to hear Clinton discussing the topic.
Of course, that wasn't Chelsea's only thought about Trump calling her mother "nasty." She said,
I think that it has been clear now for many months who Donald Trump is. He has a view of who he thinks isn't as good as he is, and I think you've sadly seen that toward women and minorities and immigrants and the LGBT community. So it just makes me sad that that is part of our presidential election season.
For the record, here is the uninterrupted version of Clinton's response about her plan for Social Security:
We need to put more money into the Social Security Trust Fund. That's part of my commitment to raise taxes on the wealthy. My Social Security payroll contribution will go up, as will Donald's, assuming he can't figure out how to get out of it. But what we want to do is to replenish the Social Security Trust Fund by making sure that we have sufficient resources, and that will come from either raising the cap and/or finding other ways to get more money into it. I will not cut benefits. I want to enhance benefits for low-income workers and for women who have been disadvantaged by the current Social Security system.
And here is Trump's response to the same question on Social Security:
I'm cutting taxes. We're going to grow the economy. It's going to grow at a record rate of growth.
The election is on November 8.
Elite Daily and 50 other media organizations partnered with Rock The Vote to register 100,000 women to vote. You can register right here (and men can use it too) :
Citations: Cosmopolitan, New York Times