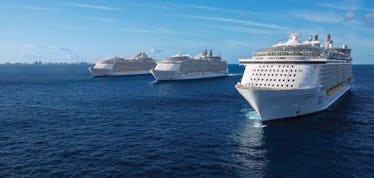 This Admirable Cruise Line Cancelled A Voyage To Bring Needs To Puerto Rico
Royal Caribbean
Just when it seemed like there was literally no good news coming down the pipeline, we got this amazing gem. While many cruise ships have rerouted their trips away from the storm-ravaged Virgin Islands and Puerto Rico, one cruise line is heading straight into the disaster zone. Royal Caribbean cancelled a cruise and is bringing relief efforts to areas affected by hurricanes, and I am sending them one thousand snaps right now.
As of Sept. 30, much of Puerto Rico is facing shortages of water, food and fuel. The island was already recuperating from Hurricane Irma, which left behind $1 billion in damages when Maria slammed down on Sept. 20.
The Royal Caribbean cancelled an upcoming voyage in order to send a cruise ship to the island, which both dropped off much-needed supplies and picked up evacuees, Consumerist reports. The cruise line will bring the passengers to Fort Lauderdale before turning around and heading back to the island with more supplies. Similar relief efforts will be made in St. Thomas and St. Croix, which were both hit by Hurricane Maria and Irma.
The vessel picked 2,200 people in San Juan on Wednesday and headed to St. Croix where it collected up to 750 people. Then, it went to St. Thomas where it brought 250 people on board, CNN reports. The passengers were not charged for the journey.
"We have been such a part of the Caribbean and South Florida communities for so many decades. We are worried and anxious," Royal Caribbean CEO Michael Bayley told The Miami Herald in September. "At the end of the day, we want to try to help as much as we can."
About 1,300 of the people picked up were Royal Caribbean's "friends and family," according to Jose Izquierdo, executive director of the Puerto Rico Tourism Company -- while 900 were tourists. There were some locals evacuated as well.
"There's some elderly on board, there's some people with medical conditions that require attention and have been given priority," Izquierdo said.
Other cruise ships have also stepped up to help those in need, following three back-to-back devastating hurricanes. Carnival is both delivering supplies to storm-ravaged areas, and pledging up to $10 million to Florida and the Caribbean.
Norwegian Cruise Line is donating $600,000 to the Florida Keys and the Caribbean, as well as matching up to $1.25 million in donations to All Hands Volunteers and Happy Heart Fund's relief efforts.
Izquierdo invited other cruise lines, who have yet to donate their resources, to step up now. He said,
I'd like to take this opportunity to encourage other cruise liners and others in a position to help to .... emulate what Royal and others are doing right now.
The cruise lines lending a helping hand are getting major accolades on Twitter.
Other major companies are helping to bring relief efforts to the island, as well. After Maria passed through Puerto Rico, Tesla started sending hundreds of battery systems to help restore power, Fortune reported. Tesla employees are also working on the ground in Puerto Rico, installing battery systems and solar.
Meanwhile, Microsoft donated $1 million to Puerto Rico relief efforts, as well as free skype calls into Puerto Rico, according to Time. Apple and Google have also donated $1 million to Puerto Rico.
There's still so much to be done, though. During a press conference on Friday, Sept. 29, San Juan's mayor, Carmen Yulín Cruz put out a desperate plea for federal assistance. She said Puerto Rico is currently experiencing "something close to a genocide," explaining,
We are dying here. I cannot fathom the thought that the greatest nation in the world cannot figure out the logistics for a small island of 100 miles by 35 miles. So, mayday we are in trouble.
If you're able contribute supplies to Puerto Rico, you can find guides for donation here, here and here.