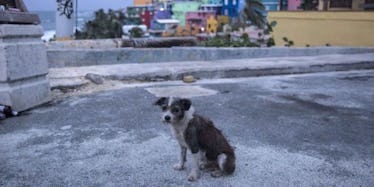 This Is How You Can Help Dogs In Puerto Rico After Hurricane Maria
Alex Wroblewski/Getty Images
The Caribbean region has been hit hard these past few weeks starting with Hurricane Irma, and now with Hurricane Maria making its way through the U.S. territory of Puerto Rico, who missed the destruction of Irma. With the destruction and tragedy on the island, there are numerous supplies that need to be donated for hurricane efforts and ways to help in recovery. Puerto Rico, having endured an economic crisis and now a major hurricane, needs helping hands to save the helpless animals caught in the storm. Here are some practical ways to help dogs in Puerto Rico.
Puerto Rico has an increasing amount of stray dogs, or "satos" as the locals call them, roaming the island. It's a culmination of the economic crisis, lack of spaying and neutering dogs, and an absence of government help. And the fact of a Category 4 hurricane, the first of its kind to hit the island of 3 million in 85 years, does not help this already existing problem. The increasing financial problems in Puerto Rico have caused many people to flee the island, leaving their dogs behind. Meanwhile, dogs that are left on the streets have most often not been spayed or neutered, leaving dogs to breed and keep breeding. The good news is that there are tons of existing rescue organizations on the island that have been helping save dogs for years. However, all of these organizations receive little to no aide from the government. They need donations to remain in business and help continue their efforts, especially during the hurricane.
The Sato Project works directly in the area of Yabucoa, the region of southeast region of Puerto Rico that received a direct hit on Sept. 20, with winds up to 155 miles an hour and "catastrophic" flash flooding. The Yabucoa region, which is characterized by extreme poverty, has an area known as Dead Dog Beach, which is a target location for the organization. As the name insinuates, many dogs end up here involuntarily and are left with no food or fresh water to survive. The Sato Project has saved over 1,600 dogs since 2011, and continues to do so with the help of donations.
In response to the hurricane, The Sato Project welcomes independent fundraising, like Kris Carr, the New York Times best-seller of Crazy Sexy Diet and Crazy Sexy Kitchen, who is donating 100% of the purchases within the next 48 hours to The Sato Project. You can also donate to the organization here.
The second organization is Island Dog.
Island Dog is located on the east coast in Luquillo, with spay and neuter programs located throughout the island. The organization's main request of donations is medical supplies that are lacking for veterinarians on the island. Additionally, they ask donators to write a letter to the Puerto Rico Tourism Company to inform them about the devastating problem and ask for resolution.
With the unexpected arrival of Hurricane Maria, Sali Gear, co-owner of Island Dog and resident of Virginia Beach, raised money and chartered a plane in two days that brought over 300 animals from the affected areas in the Virgin Islands to her farm in Virginia Beach. Gear told the Virginian-Pilot, "I did it because it had to be done. People have moved heaven and earth to make this happen." In order for more projects to be funded like this one in the wake of the hurricane, donate to Island Dog here.
Second Chance Animal Rescue which was founded in 2000, currently houses over 90 rescues and has rescued and placed thousands of dogs in homes. They thrive off of donations and animal welfare grants. While any donation is welcome, they ask people to donate adult or puppy food to a specific Petsmart location pick up. Donate here.
The stray dog problem in Puerto Rico is only persisting, and the declining financial situation, as well as Hurricane Maria, is only a recipe for disaster for these animals. Here are just a few more names of organizations that are doing similar work in Puerto Rico: Amigos de los Animales, Save a Sato, and Animals in Need. There are plenty of places to donate to that desperately need the help they are not getting from the government.
If you want to learn more about the disparity of stray dogs in Puerto Rico, watch  100,000, a 2011 Emmy-winning documentary by Juan Agustin Marquez, and donate to any of the organizations listed above to help the Hurricane Maria efforts.