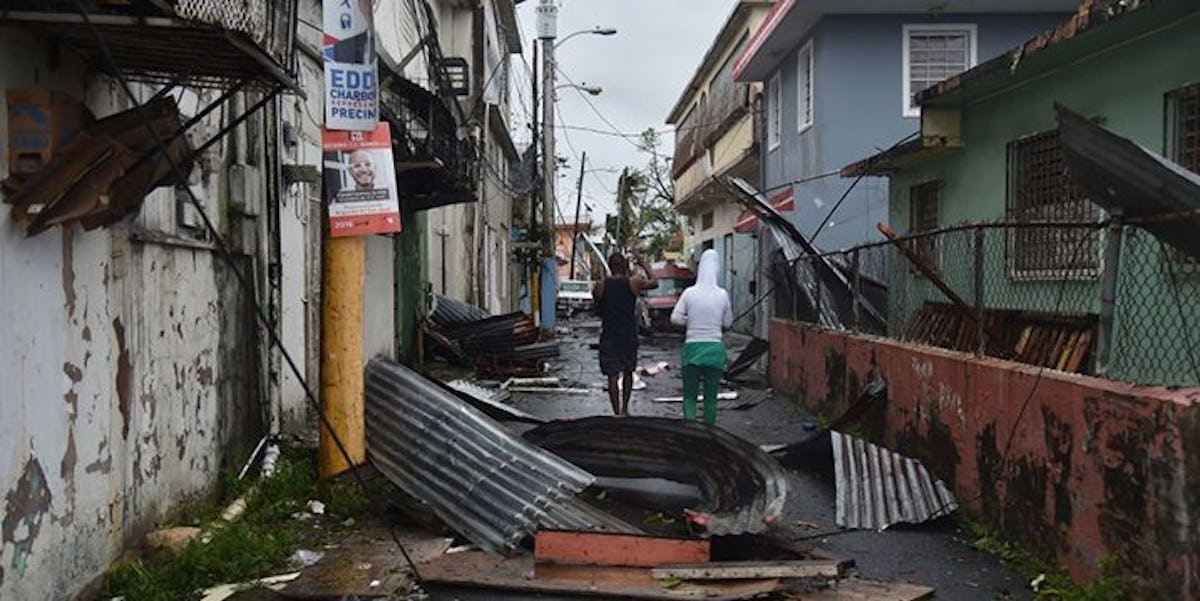 This Is What You Should Do If You Want To Donate Clothes To Hurricane Maria Relief
HECTOR RETAMAL/AFP/Getty Images
UFC fighter Angela Magaña, a native of Puerto Rico, painted a pretty simple picture after Hurricane Maria pounded Puerto Rico on Wednesday, Sept. 20. She outlined the territory's needs about as straightforward as possible to CNN: "We need cleanup, water, food, and generators. There are a lot of old people here who are going without necessities. We need to rebuild and restructure, and we need prayers. Any kind of help we can get because it's a mess right now." What's certain is that the island could indeed use donations right about now, what's much less clear is exactly how to donate clothes to Puerto Rico.
In Florida, which itself was hit by a hurricane earlier this month, efforts to collect donations are already underway, with numerous local organizations having set up drop-off locations for charitable items. Another organization in the state, the Puerto Rican Leadership Council of South Florida, will begin accepting donations on Friday, Sept. 22. The org's president, Luis De Rosa, stressed the needs of Puerto Ricans, particularly considering the fact the island endured two successive hits by hurricanes.
De Rosa told the Miami Herald,
Puerto Rico is going through a really hard time. They're very exhausted and the fatigue has created other issues for people. Here you just finished Irma, you have to get ready for Maria.
As the Herald notes, physical donations are brought to drop-off sites, which means if a person wants to directly gives clothes to the cause, it would most likely require finding a local organization that's working to ship supplies to the island. For example, Brenda Irizarry, a Department of Defense contractor, told Tampa's ABC Action News that she's making an effort to send donated supplies from local residents back to Puerto Rico. She said,
We have a plan to hopefully get (the) National Guard to take a plane over there as soon as possible to take everything we have.
The key word, though, is "hopefully," which hints at the uncertainty that comes with donating physical supplies to be sent overseas. Britt Lake, the chief program officer for a charitable organization called GlobalGiving, discussed that uncertainty with the New York Times. She said,
I can't tell you how many times I have been in disaster situations where I've seen, literally, just warehouses filled with stuff that people give, just sitting there.
GlobalGiving accepts monetary donations after vetting charities dedicated to certain relief efforts.
In fact, there are plenty of organizations that can use financial donations instead of specific items like clothes. One example? The office of Puerto Rican first lady Beatriz Rosselló has set up an initiative called Unidos Por Puerto Rico, which is accepting financial contributions towards disaster relief.
In general, if you're interested in making a financial contribution -- and want to make sure the organization you're giving to is legit -- you might use this tip sheet from the U.S. Federal Trade Commission (FTC), which provides guidelines on how to best select a charity to donate to.
Regardless of which organization you choose, one thing's for certain: Puerto Rico definitely needs help, a fact that San Juan Mayor Yulin Cruz could not stress enough after the island was hit by the strongest hurricane it has faced in 85 years.
Cruz told NBC Nightly News,
The Puerto Rico and the San Juan that we knew yesterday is no longer there. So we have to reconstruct, rebuild, reinvent and we have to be resilient. And we have to push on if not with our bodies, with our hearts and with our soul.
If you're so inclined, consider a donation to one of the numerous charities trying to aid Puerto Rico.