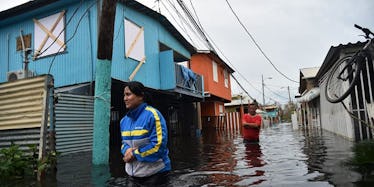 You Can Donate Food To Puerto Rico After Hurricane Maria, Here's How To Do It
HECTOR RETAMAL/AFP/Getty Images
The toll that has been suffered by Puerto Rico, after enduring two high-powered hurricanes this month, is well-documented. Days after being hit by Hurricane Irma, this U.S. island territory was slammed by Hurricane Maria, the strongest hurricane to impact Puerto Rico in 85 years. Naturally, with many of the island's residents in need of help, a number of organizations are stepping up to help people figure out how to donate food to Puerto Rico after Hurricane Maria, among other charitable gifts.
One of those organizations was endorsed by singer Marc Anthony, who recorded a video message urging viewers to contribute to the cause. Anthony said,
During these past weeks, my island has faced the wrath of two historic hurricanes. It was Hurricane Irma and now Hurricane Maria, as we all know, which has caused great devastation in Puerto Rico and the broader Caribbean. None the less, Puerto Rico became a safehaven for those in need from our neighboring islands. That says a lot about us. But today, Puerto Rico needs your help, and I'm calling on everyone to support and donate to the disaster relief effort of the first lady of Puerto Rico Beatriz Rosselló. United for Puerto Rico. Together we can change trajectories. So to donate, please go to UnitedForPuertoRico.com.
Another famous celebrity with Puerto Rican roots, Jennifer Lopez, did the same. During her own video message, Lopez said,
What's on my mind is what's going on in Puerto Rico. The devastation is beyond belief. Me and my cousin still haven't been able to hear from our families over there. What's foremost on my mind and many others is trying to figure out the best way to help. Island Puerto Rico has been hit by two of the most devastating hurricanes we have ever seen: Irma and Maria. Today, Puerto Rico needs our help. I urge you to support and donate to the efforts of the First Lady of Puerto Rico, Beatriz Rosselló, Unidos Por Puerto Rico. Together we can help rebuild our island, and the Caribbean.
Indeed, United For Puerto Rico -- aka Unidos Por Puerto Rico -- is one of the more notable organizations that has been accepting donations to help victims of Hurricanes Irma and Maria.
United For Puerto Rico accepts payments online, much like GoFundMe, which is another useful tool that can be used to donate to Puerto Rico. GoFundMe lists a number of verified charities that you can donate to, which means anyone can pick a group to contribute to based on the specific needs the organization aims to cater to.
If the specific need you'd like to help supply, for example, is food and water, you could look into Convoy of Hope, an organization that has been endorsed by the New York Times helping supply food and other supplies to internationally. In any event, you should research whether making a financial contribution to an organization that provides food on the ground in Puerto Rico could be more effective.
Depending on where you live, directly donating food could be easier than it would be in other places. For instance, the Orlando Sentinel has compiled a list of sites around Florida where donations for Puerto Rican victims of Hurricane Maria are being accepted. The Miami Herald did the same.
Given that Florida is the closest American state to Puerto Rico -- with a high concentration of Puerto Rican residents to show for it -- one would expect for there to be a solid array of local charities to give to. That may not be the case for every state.
For research purposes, sites like Global Giving and Charity Navigator have been widely endorsed as good resources to find charitable organizations of one's choice. Whether you donate locally or online, giving will ultimately be the most important part.