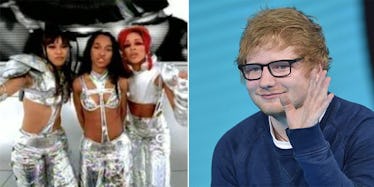 Ed Sheeran Basically Admits He Stole TLC's 'No Scrubs' Melody For 'Shape Of You'
YouTube/REX/Shutterstock
If Ed Sheeran's new single "Shape of You" makes you weirdly nostalgic for '90s R&B, you aren't alone.
Numerous fans pointed out similarities between the plucky pop diddy and TLC's classic blowoff track "No Scrubs," and now it looks like Sheeran is admitting to taking elements from the beloved '90s hit for his song.
Over the weekend, some eagle-eyed music lovers noticed three new names were recently added to the list of official writers on "Shape of You" on the music-rights site ASCAP: Kandi Burruss, Tameka Cottle and Kevin Briggs.
At first glance, no big deal, but when you realize Burruss, Cottle and Briggs wrote "No Scrubs," the story becomes a lot more interesting.
It seems pretty clear those names being just now added to the songwriting credits proves Sheeran did indeed lift elements from "No Scrubs" when writing "Shape of You."
Many fans have been pointing out the similarity between the two melodies since Sheeran released the track at the beginning of 2017. Rising pop artist Sabrina Carpenter even illustrated how similar the two choruses are by mashing the two songs up.
Sheeran's action of giving the "No Scrubs" writers songwriting credit is likely also an attempt to avoid any potential legal issues.
After all, Sheeran faced not one, but two copyright infringement lawsuits last year over tracks from his last album, x.
Indie pop artist Matt Cardle sued Sheeran for $20 million, pointing out Sheeran's song "Photograph" sounds a lot like Cardle's single "Amazing."
Just a couple months later, the estate of Marvin Gaye similarly filed a lawsuit against Sheeran for plagiarizing Gaye's "Let's Get It On" in his single "Thinking Out Loud." Both lawsuits are currently ongoing.
Whatever his motivations, it's clear Ed Sheeran is not hiding the fact that the sound of "Shape of You" is definitely inspired by "No Scrubs." The '90s are definitely alive and well in 2017!
Citations: ED SHEERAN FINALLY ADMITS THAT "SHAPE OF YOU" USES TLC'S "NO SCRUBS" MELODY (Genius)