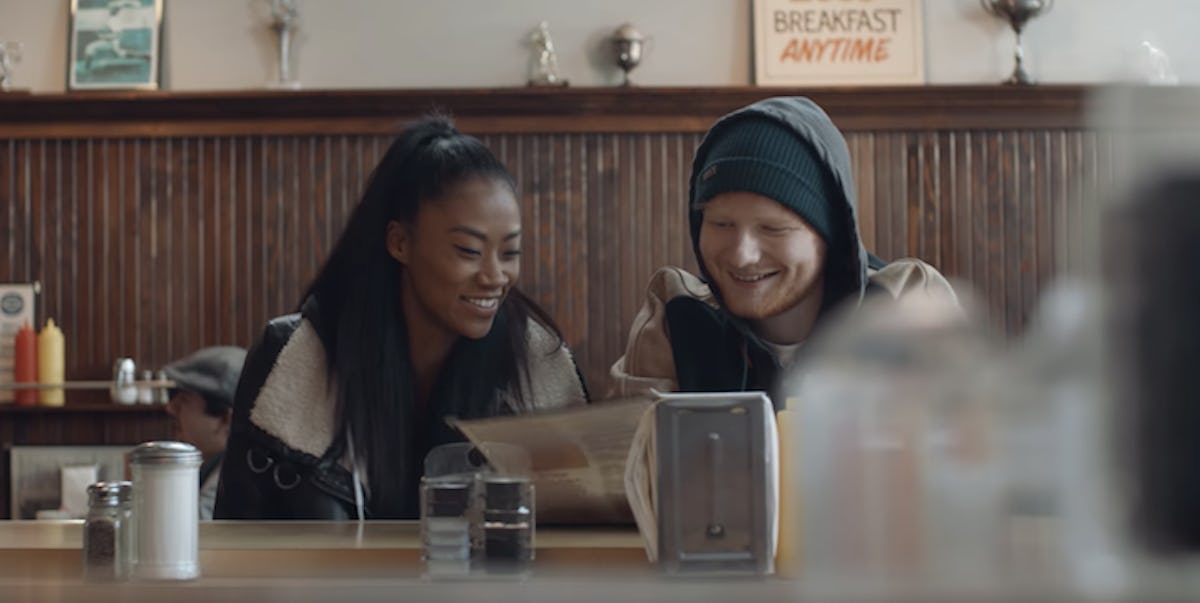 Ed Sheeran's 'Shape Of You' Video Has The Cutest Love Story And We're Obsessed
YouTube
Dayummmmmmmmmmm, you are about to become a major fan of Ed Sheeran.
If 2017 will be known for anything, it's the year Ed Sheeran started dropping new music... and this whole Trump thing.
The King of the Taylor Swift friendzone spent most of January plugging his new album ÷, which is set to release March 3.
He's dropped casual hints on social media, and even did us the favor of releasing this video where he hints at an album the same way that guy at the end of "Love Actually" creepily lets Keira Knightley know he loves her (EVEN THOUGH SHE IS MARRIED TO HIS BEST FRIEND! WTF IS UP WITH THAT SCENE! Sorry, off topic).
You can check out that video here:
His latest music video release is for "Shape of You" and as much as I was 50/50 on "Castle on The Hill," I am 10,000 percent sold on this new music video.
The story follows Sheeran and his love interest, Jennie Pegouskie, who you may recognize from "Fresh Prince of Bel Air." They're involved in some hawt boxing sex thing where they work out all day and then do aerobic intercourse stuff at night — at least that's what I assume based on the story line.
The two adorably share a plate of fried chicken and french fries (Jennie gets the salad first) in a restaurant, presumably also before they went home and had intercourse as described above.
The best part of the video, hands down, is how in order to work off her chicken and fries plate, Jennie does this weird sit-up thing where her legs are wrapped around a punching bag. This is the third time in my life where I've seen a fitness move on YouTube that I could not figure out if it was CGI'd or not.
The video does get kind of weird at the end, finishing with Sheeran sumo wrestling an actual sumo wrestler, not that this fits in with the rest of the storyline.
The rest of it is fun though and, just like the rest of you, I'm pretty happy Ed is back in the studio.
Citations: Ed Sheeran Gets Fit in the Boxing Ring in Sexy New Shape of You Music Video (ET)