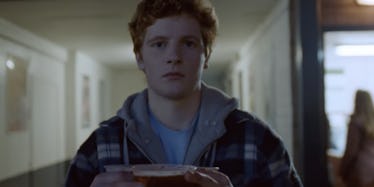 Ed Sheeran's Teenage Doppelganger Is The Star Of His Nostalgic New Music Video
YouTube
Ed Sheeran's doppelganger is in his new music video and, no, I'm not talking about a giant plate of wacky mac with hair.
Everyone's favorite friend-zone resident Ed Sheeran has been putting out new music over the past few weeks from his new album. Not much is really known about his upcoming album except that it's called ÷(divide) and is set to be released in March.
Today, Ed released the first full music video for a single off the album, utilizing a teenage version of himself in the video for "Castle On The Hill."
Just to remind you really quickly, this is what cheddar cheese Ed Sheeran looks like.
Look at this beautiful doe-eyed bowl of Cheetos.
"Blue is the best color? Pfffftt, tangerine 4 lyfe."
"NU UH! THE ANGRY ONE FROM 'INSIDE OUT' IS THE BEST COLORED EMOTION!"
The music video for "Castle on The Hill" was shot in Ed Sheeran's hometown of Framlingham, England -- and not Hobbiton, as we all thought he was raised in the Shire. It features a younger version of himself going through a series of life moments.
Ed randomly does make a few cameos in the video, driving around the town by himself, singing about his life back then. The song deals with a few of his relationships and what happened to the prominent members of his childhood.
In the song, he sings,
One friend left to sell clothes One works down by the coast One had two kids but lives alone One's brother overdosed One's already on his second wife One's just barely getting by But these people raised me And I can't wait to go home
Just like all of the rest of his songs that aren't "Thinking Out Loud," so far the ones he's released off the new album have been fine, I guess.
Good luck in March, Orange Grimmace. FERK! Eddy! I meant Eddy.
Citations: Watch Ed Sheerans Sweet Teenage Ode in Castle on the Hill Video (Rolling Stone)