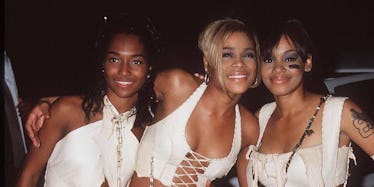 TLC Is Going On Tour So You Never Have To Stop Chasing Waterfalls
REX/Shutterstock
It's time to stop feeling so damn unpretty, brush off all those scrubs and start chasing those waterfalls again because TLC is back!
The R&B group is headlining a new tour that is sure to give you all the '90s nostalgia you could ever want.
The remaining two members of TLC (RIP, Left Eye) are leading this summer's I Love The '90s Tour, which will also include beloved throwback artists like Mark McGrath, Naughty by Nature, Blackstreet, Biz Markie, Montell Jordan, All-4-One, Snap! and C+C Music Factory.
And that's not the only exciting comeback new TLC has in store for fans this summer. Earlier this month, T-Boz and Chilli announced they'll be releasing TLC's fifth and final album, although it will technically be a TC album.
It will be the only album the group has released that doesn't include Lisa "Left Eye" Lopes, who died in 2002.
Fans of the '90s are definitely not going to want to miss this tour, which begins this spring and will continue across the United States through September.
The lineup for each stop actually changes, so be sure to check out the tour's website to find out which '90s artists are coming to a city near you.
This summer's I Love The '90s Tour actually marks the second annual iteration of the event. It kicked off last year with headliners like Salt-N-Pepa, Vanilla Ice and Coolio, and went so well it massively extended its number of dates (from 29 to over 110!) and even expanded to international stops.
Though they haven't released a new album since 2002's 3D, TLC is a well-oiled touring machine right now. Chilli and T-Boz have been on the road pretty much constantly for the past two years.
The group's Main Event Tour spanned the summer of 2015, and then they spent pretty much all of 2016 on their worldwide TLC 2016 Tour.
You can check out the tour dates and buy tickets for the I Love The '90s tour here.