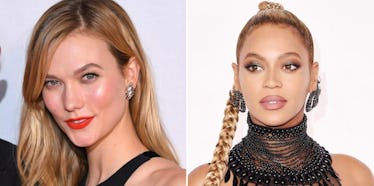 Taylor Swift's BFF Pissed Off Beyoncé Fans For The Most Hilarious Reason
REX/Shutterstock
Ohhhhhh nooooooo, Karlie Kloss. Bad job, Karlie Kloss.
The Victoria's Secret model and VP of Taylor Swift's squad is in a bit of hot water after she mistakenly confused Destiny's Child for TLC, a crime punishable by death in certain states.
The mix-up happened during a "mega fan" profile in Love magazine where Karlie talked about all the things that cause her to fangirl.
Here is the letter she wrote for the piece.
So here are some fun facts about Karlie from her letter.
1) She is a massive Beyoncé fan. 2) She became a Beyoncé fan in 2003 when Destiny's Child hit it big. 3) She loves Beyoncé's swag. 4) Beyoncé is the soundtrack to Karlie's life. 5) Karlie has no idea Beyoncé didn't write "Waterfalls."
For those of you at home who were born after the Clinton administration, TLC was the group who sang "Waterfalls."
Destiny's Child, on the other hand, is what happens when Beyoncé graciously allows her stage to be shared by anyone who wasn't responsible for "Single Ladies."
This is clearly a super embarrassing gaffe. It's not like Karlie was saying, "Yeah, I guess I like Beyoncé and Destiny's Child. They sang, 'Waterfalls,' right? No? Oh well, I'm a casual fan at best."
This is Karlie going, "My FAVORITE person on the ENTIRE planet is Beyoncé. I love her for that song that she 100 percent sang, AND NOBODY ELSE, 'Waterfalls.'"
The internet picked up on this mix-up and made sure Karlie KNOWS what she did wrong.
Same, Caity Weaver. SAME.
This has ruined certain people. This is our generation's version of Watergate.
Karlie isn't unaware of the mix up, by the way.
She posted this to her Twitter after Super Deluxe picked up on her questionnaire answer.
Anyway, you can catch Beyoncé this weekend performing in Czechoslovakia with One Direction. Hopefully they do their hit song "Piano Man."
Citations: Uh Oh: Karlie Kloss Just Pissed Off The Beyhive (Refinery29)