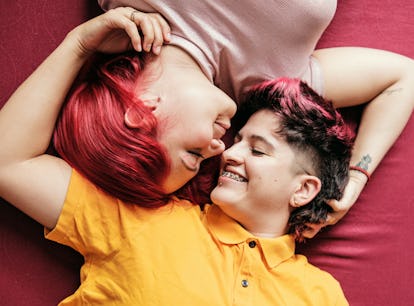 The 2023 "Ring Of Fire" Solar Eclipse Will Affect 4 Zodiac Signs Most
Setting boundaries is key.
How has cuffing season been treating you so far? If you've been easily agreeable and more interested in finding common ground with others, it's not necessarily because you're losing your edge. It's most likely due to the sun traveling through Libra — and the harmonious, partnership-oriented energy it brings will reach a powerful peak during the upcoming annular solar eclipse. So if things have felt out of whack between you and another person as of late, expect things to shift back into alignment, especially if you're one of the zodiac signs that'll be affected by the 2023 "ring of fire" solar eclipse the most.
What Is An Annular Solar Eclipse?
An eclipse takes place when the sun, moon, and Earth are each in alignment, either fully or partially. Annular eclipses, in particular, occur when the moon passes over the sun, but doesn't cover the entire surface. This causes the "ring of fire" effect, due to the moon appearing smaller than the sun.
When Does The 2023 "Ring Of Fire" Solar Eclipse Take Place?
On Oct. 14 at 9:20 AM PST (since this annular solar eclipse will only be visible West Coast states), the sun and moon will link up in the Venus-ruled sign of Libra, bringing powerful new beginnings to every zodiac sign's birth chart. As the first eclipse in this sign this year, there will be a strong desire to better establish balance in your relationship dynamics, especially if you're a cardinal sign (i.e. Aries, Cancer, Libra, or Capricorn). Since this rare eclipse — which will be the last of its kind for the next 20+ years — will take place near the South Node, you may find that some connections are coming to an end, while more supportive, balanced relationships will be beginning.
Since cardinal signs will feel the effects of the "ring of fire" solar eclipse the most, here's what this quartet can expect. (Hint: Get ready to do some mediating.)
Aries Zodiac Signs (March 20 - April 20)
On Oct. 14, the sun and moon will join forces in your seventh house of relationships, bringing powerful shifts to your romantic affairs. Although you're typically a fan of flying solo, this eclipse will amplify your desire for balanced, reciprocal connections. This solar eclipse could signify the start of a powerful new connection, or mark the end of a dynamic between you and another person. Either way, you'll be interacting with others much more than you're used to, so make sure to keep your social battery charged.
Cancer Zodiac Signs (June 20 - July 21)
As the Libra solar eclipse unfolds, you'll be seeking more balance in your household and familial affairs. You're someone who prioritizes a satisfying life behind closed doors, Cancer, and on this day, you'll be met with monumental new beginnings that support a more pleasant environment. This may signify a new living arrangement, or a shift in your relationship with a roommate or family member. You may not feel very outgoing, but fortunately, your home will serve as the perfect safe space.
Libra Zodiac Signs (Sept. 21 - Oct. 22)
This eclipse is all about you, Libra, but because you're the social butterfly of the zodiac, how you relate and connect with others will also be emphasized. As the sun and moon link up in your first house, you'll be turning over a new leaf regarding how you show up in the world, while also considering how this new and improved version of yourself is being received by others. Though you may feel more inclined to prioritize yourself on this day, you should still experience some shifts in how you interact with others. Setting boundaries is key.
Capricorn Zodiac Signs (Dec. 21 - Jan. 19)
On Oct. 14, the Libra solar eclipse will initiate powerful new beginnings in your career and professional life. On this day, you'll seek more of a balance in your work, making this a good time to split your duties with a supportive colleague. As the goal-oriented sign of the zodiac, you're no stranger to succeeding on your own, but as the eclipse happens, you'll be more inclined to embrace people who are willing to help you bring your vocational ventures to life.